A month ago, a Connecticut author I know announced that she had just become an Affiliate of the new BOOKSHOP.org.
What is Bookshop.org, I thought!
Her social media post spurred my curiosity. I spoke with her and then googled to learn even more. The mission of BOOKSHOP.org, a new online bookstore and B-Corporation, is to capture a minuscule portion of Amazon's market share of book sales—and distribute most of those revenue dollars (every six months) to Indie Bookstores.
This article will address the following questions, through its content and links:
Why is the business design of BOOKSHOP.org so timely and appealing?
How can authors, publishers, readers, media, bloggers, and Indie bookstores benefit?
Which media articles discuss BOOKSHOP.org and its founder, Andy Hunter?
Should I become an Affiliate? Why? How?
How does BOOKSHOP's Book List feature broaden my Affiliate reach?
When I read more about how this venture evolved, I felt this new cyber bookshop was the "child" of entrepreneurial insight and heartstrings. What a joyful lift in these months of #StayAtHome and sadness due to the ravaging impacts of the COVID-19 global virus on individuals, families, communities, countries, and economies.
As of this writing, BOOKSHOP.org has raised more than $5.5 million dollars for Indie Bookstores (in just six months of operation). The business design supporting the BOOKSHOP.org mission is a fascinating collaboration consisting of these major elements:
BOOKSHOP.org (website and lean staffing) manages the book sales and shipping processes;
Lightning Source (LSI) / Ingram is providing the (base) catalog and supply of books;
Much of the book sales revenue is set aside and distributed "evenly" every six months to Indie Bookstores;
Indie Bookstores (typically lacking their own online bookshop) can set up an online bookshop at BOOKSHOP.org and receive a 25-percent commission for each book sold;
Book buyers at BOOKSHOP.org can designate a specific Indie Bookstore's shop to receive the 25-percent* sales commission;
an Affiliate program rewards registered authors, publishers, bloggers, and other media, with 10-percent sales commissions, when their promotional links are clicked thru to sales.
Did you miss the news announcements, too, of the January 2020 launch of this new entity? Maybe it was our post-holiday distractions, or end of year accounting and tax prep, or the COVID-19 ramp-up… though one bookstore owner I spoke with yesterday felt "the soft launch" was intentional.
As a reader and buyer of books, especially for gifts, I am really liking these store features:
(a) as a BOOKSHOP.org customer, I can designate a specific bookshop in my local area, or elsewhere in the U.S., to receive the commission based on my purchase; and
(b) BOOKSHOP.org distributes a huge portion of their revenue dollars to Indie bookstores every six months from the accumulating "pot."
In my roles as author and publisher, the next question was clear. Do I want to participate as an Affiliate of BOOKSHOP.org? I use both LSI / Ingram and Amazon to print and distribute my books, and have received mostly excellent service from both. But, though Amazon excels at price, speed, and reliability, I can appreciate the concern I hear from readers and others about its growth and breadth. As an American and particularly as a child/grandchild of immigrants, I value a competitive environment that continues to bring opportunities into view. And, I feel BOOKSHOP.org's business design is going to appeal to a portion of my books' readers and prospective readers.
As an author and publisher, I try new marketing strategies every year. Bookshop.org seems both a worthy platform and a promising marketing opportunity for both readers and many of us in the book industry, especially if we use LSI / Ingram to print and distribute our book(s). My understanding is that BOOKSHOP.org offers everything in Ingram's giant book catalog. When I browsed around BOOKSHOP.org for the first time, I was delighted to see the display of my two books—already there.
So, I will give this Affiliate opportunity a try. If you are an author and/or publisher, you may want to read more, just as I did—due diligence. The next section of this blog piece provides links to some excellent articles. The third section below contains some images and tips on setting up an Affiliate Account with BOOKSHOP.org, should you decide to pursue this.
MORE ABOUT BOOKSHOP.ORG
To read more about BOOKSHOP.org at their own website CLICK HERE .
Below is a chronological sampling of media articles about BOOKSHOP.org, since their launch in January 2020. Each article offers its own take on the new venture, and several provide discussion comments by the founding entrepreneur, Andy Hunter.
CLICK HERE for January 30, 2020 article at WIRED.com .
CLICK HERE for January 30, 2020 article at MHPBOOKS.com .
CLICK HERE for February 14, 2020 article at FORBES.com .
CLICK HERE for March 13, 2020 article at RETAILWIRE.com .
CLICK HERE for April 29, 2020 article at LATIMES.com .
CLICK HERE for June 16, 2020 article at NYTIMES.com .
SETTING UP MY AFFILIATE ACCOUNT at BOOKSHOP.org 
So, this past week I established my Affiliate account with BOOKSHOP.org. What I learned may assist someone else, so this section contains a few tips and examples from my Affiliate Account 3Houses. These are highlights and not every step you will take.
The exercise was similar to setting up a social media account. I followed the "Bookshop for Authors" page instructions for setting up an Affiliate Account at BOOKSHOP.org .  CLICK HERE to review those instructions.
BOOKSHOP.org estimates the set up time for an Affiliate Account to be 15 minutes. I expect those technically clever millennials could meet that time, but this baby-boomer took several hours to think about and complete the profile.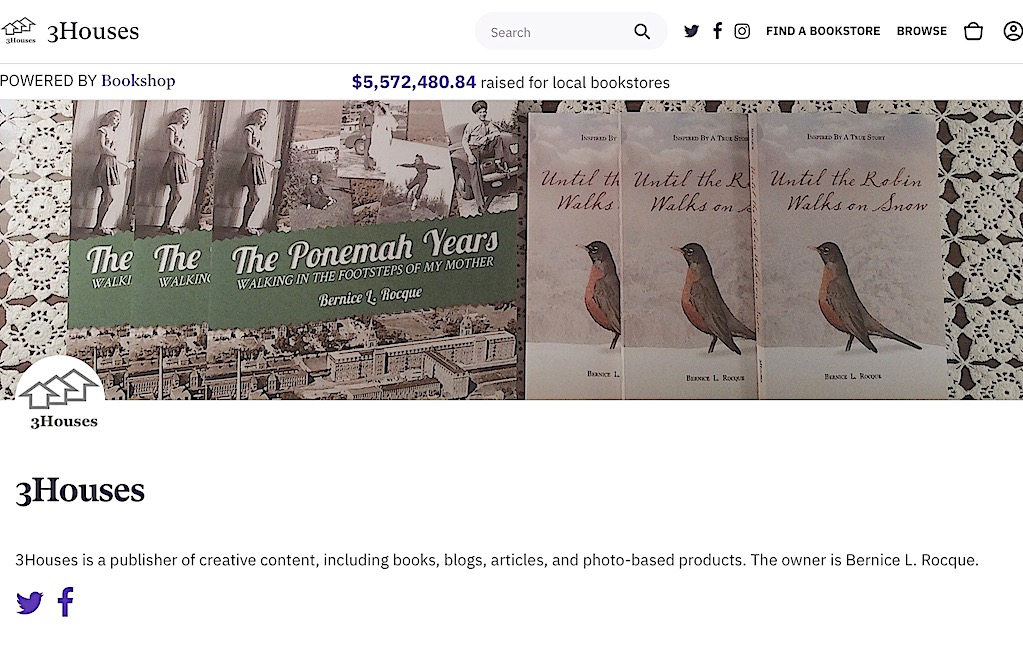 The first Affiliate Account profile decision may be role: publisher, author, blogger, media, etc.
Since I am both a publisher and author, I decided to use the name of my publishing company 3Houses for the name and description, but provided my AUTHOR links to both Twitter and Facebook. I was surprised and disappointed that neither my official author website URL nor my Pinterest link were requested. This image ABOVE displays the header of my Affiliate Account 3Houses. Notice I provided my logo in place of a headshot.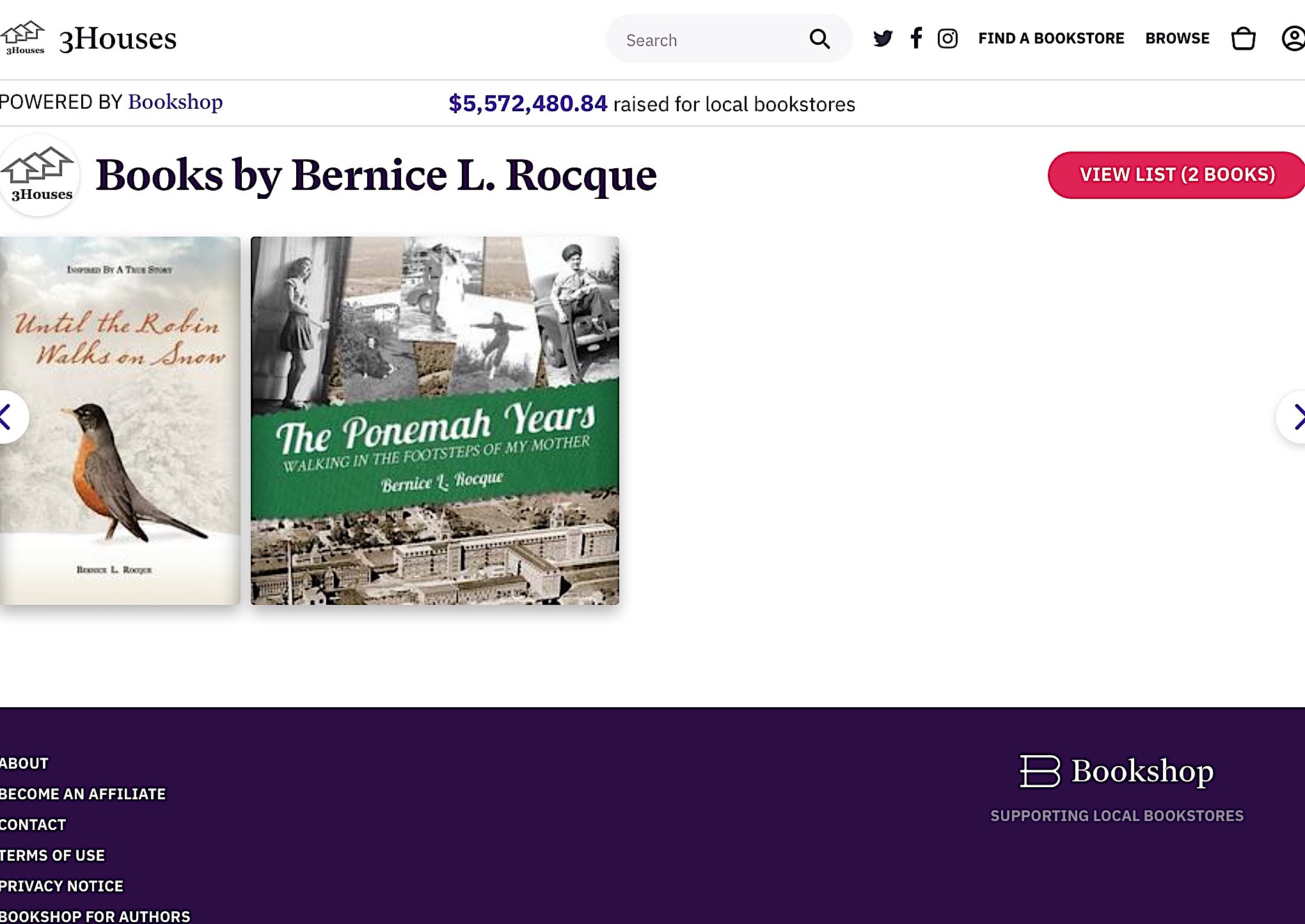 At the bottom of the Affiliate Account profile you see the lead-in to the Book Lists. I chose to list my books in this Book List section (ABOVE). When a customer clicks on View the List, they see this display (BELOW) of a header image and descriptions for my books. For my Affiliate profile I chose to write a fresh book description (BELOW) which includes some of the takeaway impressions my readers have mentioned. If a customer searches for one of my books on BOOKSHOP.org, that search result will display a different description: the description I provided for the LSI/Ingram metadata when the book was released.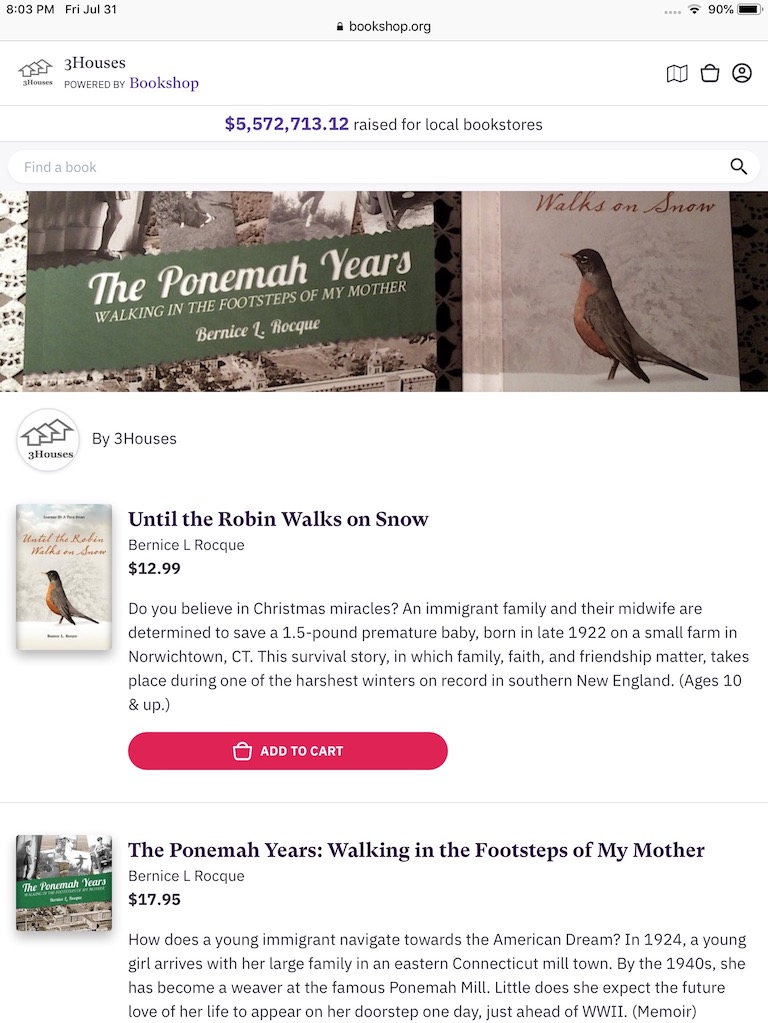 So, before you begin to enter info on BOOKSHOP.org for your Affiliate Account, it helps if you select, size, and assemble:
a brief bio and/or business description;
your LSI/Ingram or newly written descriptions of your books;
your Twitter and Facebook links;
a headshot or LOGO;
and images that meet the size specifications.
The first image requested for the Affiliate Account header (first image shown above) is specified as 2048 by 600 pixels, as of this writing. Next, be aware an image will head each Book List you establish now or later, and should be 1024 by 800 pixels. I used a similar, but differently sized image for the Account and first Book List headers. There are three choices of Book List image display. I just accepted the standard one, for now.
By the way, you can use the BOOKSHOP.org Book List feature to promote books of other authors. This can create the potential for additional sales for those authors and commissions for you. One clear approach for BOOKSHOP.org Book Lists might be to cluster books which share one or more elements of story, setting, time, place, memorable characters, etc. I want to give more thought to how I will organize my Book Lists, so this objective will reside for now on my very long "To Do" list!
Along the way, and/or when you have completed your Affiliate Account setup, be sure to view the profile, on a few different devices if you can, and while not logged on to BOOKSHOP.org . This will better ensure that your profile looks the way you expect the customer to see it. You can always log in again and edit as needed.
FTC rules require that whenever the use of a link may result in a commission you need to acknowledge the affiliate relationship.  With the link to your Affiliate profile or to a Booklist at BOOKSHOP.org, do provide an acknowledgement of your Affiliate status each time you promote… and don't forget to provide a more permanent link and acknowledgement on your author website (see BELOW).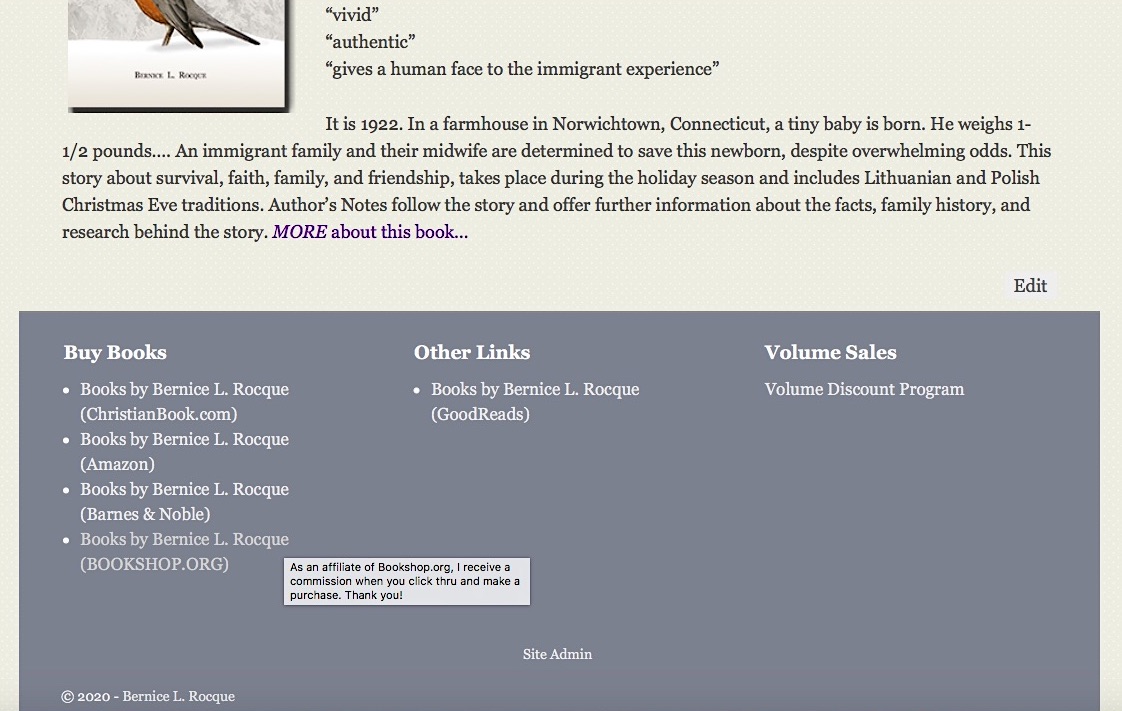 The words I am using for the acknowledgement are: "As an affiliate of Bookshop.org, I receive a commission when you click thru and make a purchase. Thank you!"
The final step is using your Affiliate Account is to promote your books, and other books, if you wish. So, as an example, CLICK HERE to follow the Affiliate link I created to my first book, UNTIL the ROBIN WALKS on SNOW. No obligation, of course… This link contains the Bookshop.org URL, my Affiliate store number, and the full ISBN for this book. I could also have linked at my shop level and you could have scrolled down to my Book List area to click on the book path to purchase.
Wishing you good luck… Please comment if I need to correct anything here, or you can amplify with additional information. Let's learn together about this new platform in the book industry.
*Note: This data point is not consistently reported across media sources. I have also seen 10 percent mentioned. Earlier this month, I did email a short list of questions to Bookshop.org but they did not respond.