Today is Father's Day. In my creative writing (and publishing) efforts to preserve the essence of family who came before me, I thought I might post this piece, first published in the September/October 2012 issue of GOOD OLD DAYS magazine. (I confess I reinstated a few local color kernels that were snipped prior to publication to accommodate page layout.)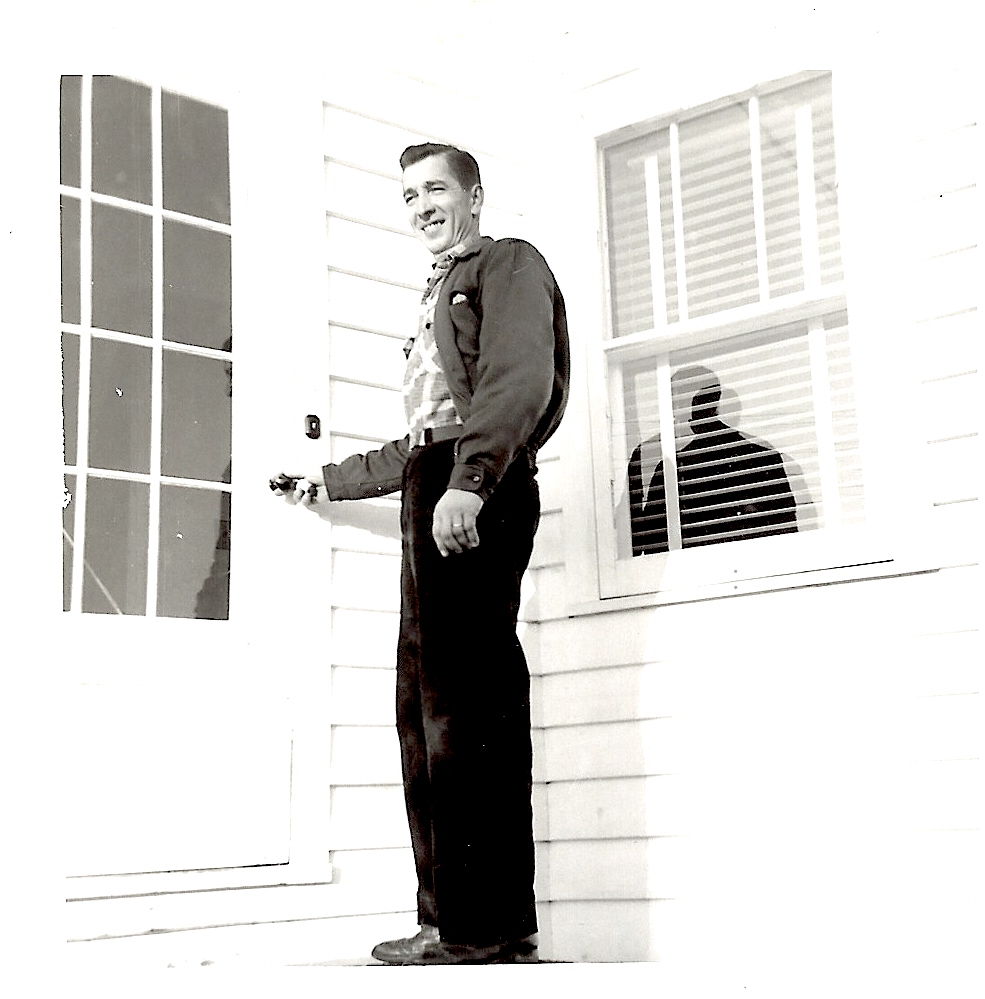 My dad, a gift to all of us who knew him, is on my mind just about every day still, even though he passed nearly 20 years ago.
I think he would have loved reading this piece as much as I reveled in writing it.
I hope you enjoy it. Leave a comment, if you wish.

******************************
FIRST CRUSH
"Peanuts, popcorn, Cracker Jacks."
The sturdy young man made his way down the wide, wooden steps of the stands at the New London-Waterford Speedbowl. He carried a hefty box of snacks anchored to his chest by a harness that crisscrossed his back. "GET YOUR peanuts, popcorn, crackerjacks."
It was the late 1950's. Our routine was the same. My father stood, signaled the barker, and grabbed a handful of change from his pants pocket. He waited patiently for direction from me, the little girl wearing the white racing helmet with goggles. My answer to his questioning gaze was predictable. We liked the same snacks.
"Two packages of peanuts, please."
A Sunday afternoon at the stock-car races wasn't the same without peanuts. Somehow, they tasted better at the Speedbowl. I had mastered eating them slowly, the same way I stretched a small box of Jujubes through the double feature at the show. My 25-cent a week allowance went further that way.
From April to October on good-weather days, we'd jump into our '56 Chevy and head south on the Connecticut Turnpike to Exit 77. Before leaving, I'd take out my large glossy photo of Don Collins and gaze at it for a few moments. I spotted it one time while getting a soda during intermission. My instructions had been to come right back, but I couldn't help lingering as I passed the track's concession stand with its impressive wall of photos. There he was — Don Collins in his famous 106 car, holding the checkered flag. (Photo: Courtesy of David Dykes Archives.)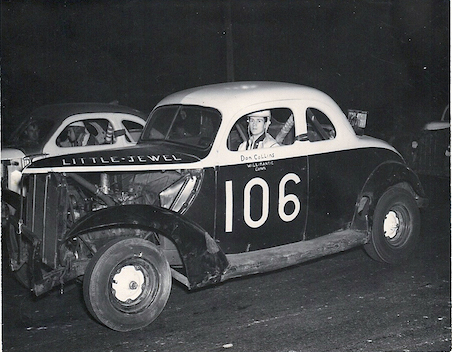 Usually I walked back along the fence near the track, to see the drivers and their cars up close as they assembled for the next race. But that day I ran back the short way.
I worked on my father until he gave me enough money to buy that beautiful 8-by-10 photograph of my favorite driver.
My dad and I weren't constant yellers like some people, but when things got exciting we did our share of hollering—I for Don Collins and my father for "Wild Bill" Slater. We usually sat in the stands facing the left side of the track, right behind Newt Palm's family. Our cheering for other drivers didn't bother them because they frequently shared inside-track information with my father, which he greatly appreciated.
The day's early races reminded me of practicing my violin. I couldn't get through an exercise without hitting wrong notes, and you could depend that some drivers would miscalculate and smash their cars while getting "warmed up." Things could change suddenly.
Once an accident occurred right in front of us in the final turn. In the same instant that I realized a wheel was flying over the high wire fence, my father's chest and arms were around me like a giant umbrella. The wheel didn't reach the stands. But, for a few scary seconds, no one knew where it would land.
The final races of the day were the longest, offered the biggest purses and featured the largest field of drivers, sometimes more than 20. When the feature race was about to begin, my eyes were glued on the exit gate of the pits, directly across from us on the far turn. Cars came out one by one, some backfiring as they eased onto the racetrack.
One of the last cars out, the gleaming black-and-white 106 silently entered the track. Don Collins drove nearly a complete lap around the oval, his car still so quiet it was as if someone turned the sound off. He edged into position at the rear of the caravan, in the company of the most successful drivers.
The mass of car pairs moved in unison, inching around the track. At first, their engines revved unevenly, like musicians tuning their instruments at the start of a concert. Then I could hear a hint of harmony. Finally, as they rounded the corner right in front of us, restraint gave way to a crescendo of speed, and pure singular sound. The flagman vigorously waved the green flag while darting off to trackside.
I pulled the blue-tinted goggles down over my eyes and covered my ears with my hands. Smoke and dirt filled the air. When I opened my eyes, the pack was halfway around the track. The crowd came alive as the drivers started to jockey for position, and especially when they were making their moves to pass.
Whether the races were 25, 30, or even 75 laps, we hated to miss a single minute. But, when the yellow flag slowed things down, or the red flag halted the race, we would yak. Like a ritual, I would often ask the question and my dad, always so patient, would supply variations of the same answer:
"Dad, do you think Don Collins will win?"
"Well, he's been winning lots of feature races this season. But, he'll need to get by a long line of cars in this race. The better drivers are all here today."
"Why do you think Don Collins wins so many races, Dad?"
"I think Don Collins knows when to stay put and when to move. He almost never crashes his car. And, his car goes the distance. Either he's a great mechanic, or the person who works on his car is. Many of the drivers prefer a Ford, but his car has a Chevy engine."
I loved the moment when I saw the admiration in my father's eyes. I really didn't mind sharing my favorite driver.
My heart would smile and I would say, "I know he's going to win today, Dad." And often, he did.
Years later, while hunting for my first car, our final stop one Saturday was a Fiat dealership in Windham, Connecticut. After a day of seeing junky used cars, my dad spotted a Chevy right away, sitting without plates in front of the garage. It easily passed our test drive and Dad's various inspections. While I completed paperwork in the office, Dad took a walk over to the garage.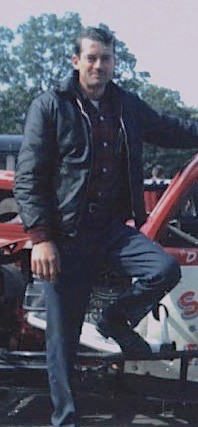 I found him standing in front of a car, its hood up, talking away with a slender, dark-haired man in mechanic's overalls, handsome despite the grease marks on his face. I couldn't help but notice the similarity in height, build, and hair color. (Photo of Don Collins: Courtesy of David Dykes Archives.)
My dad said later that both Don Collins and I blushed when he introduced us. I will never forget that surreal moment!
The 1969 Chevy I bought that day was a stellar car. I drove it 13 years.
Author's Note: Don Collins was the modified track champion at Connecticut's New London-Waterford Speedbowl in 1955, 1957, 1960, 1963, and 1969.

****************************
For added nostalgia from the 1950s and 1960s, CLICK HERE to see more about the racing career of Don Collins and wonderful photos of the man and the cars he drove.