Hello Everyone. Happy Holidays…
I am so pleased to announce the publication of the special 10th Anniversary Edition of UNTIL the ROBIN WALKS on SNOW. It is a tribute edition to my uncle, who was the advisor on the original edition of this book, first written and published in 2012 as a 90th birthday gift for him.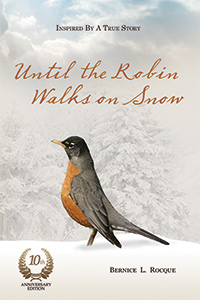 About 70 pages have been added (and an icon on the lower left corner of the front cover to distinguish it from the original edition.)
Two important story elements discovered since the book was first published have been threaded into the birth story. This 10th anniversary edition's Dedication, new Afterword, and expanded Author's Notes respond to the many readers who have asked, "What happened to the characters after the birth story ended?"
Each time readers have asked that question over the last decade, it has brought a rewarding moment to this author and to my uncle (who passed in June 2022). We both have appreciated that readers became attached to the characters and this remarkable story, inspired by a real event that took place in Norwichtown, Connecticut, much of it during the 1922 Christmas season.
Readers of the original edition often say they found this to be a wonderful wintertime read. So, pour yourself a cup of tea, glass of wine, or equivalent and enjoy it when the flakes are flying.
If you'd like to read a sampling of reviews, search my name on Amazon books and bring up the original edition. As of this writing, there are 73 ratings and/or reviews, with a 4.3/5.0 average. I am grateful that most readers have loved the original edition, and hopefully readers will appreciate the additions to story and background in the new 10th Anniversary Edition of UNTIL the ROBIN WALKS on SNOW.
At this time, the new 10th Anniversary Edition of "Robin" is available via Amazon. 3Houses is a small Indie publishing company. If you love the book, please share a rating and brief review on Amazon or Goodreads, whether this book is new to you, or you read the original edition (if the latter you might add what you liked best in the new edition, of course without being a spoiler). Thank you in advance. BLR