The Mohegan Sun hosted the FINALE of the Connecticut Authors Trail at their intimate Cabaret Theater on Thursday evening, September 19, 2013.  Many of the readers who had followed the "trail" from July to September attended and got to chat with several of the authors who had participated, as well as hear two interesting speakers tell some of what they learned writing books on Connecticut food and wine.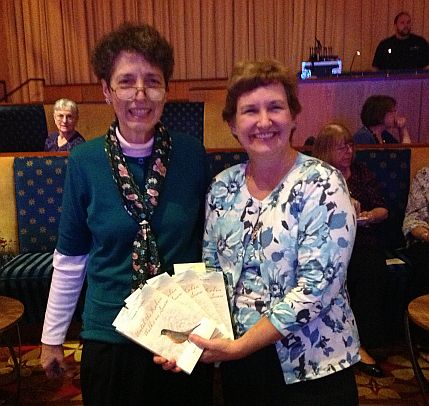 Here I am with Mary Fitzgerald who bought multiple copies of my book, UNTIL THE ROBIN WALKS ON SNOW. Mary's book group will read it in December. What a lovely person! I was so happy to give her a volume discount, and hope she'll stay in touch.
Toward the conclusion of the evening, I had the opportunity to take a few pics of some of the other authors who participated in the FINALE.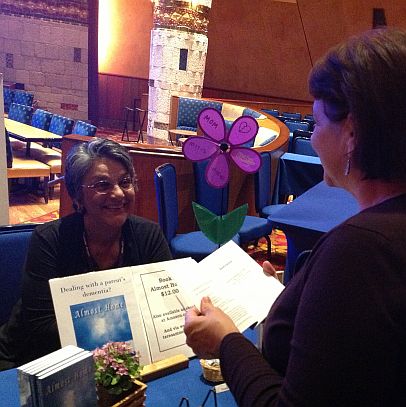 Teresa M. Norris (left) and I had something in common — our mothers slipped away, oh so slowly… Her book is called, ALMOST HOME — How I Lost my Mother without Losing My Mind: A Faith Journey.  I took a peek into her book. It grabbed me in the first paragraph! With a crisp writing style and a spiritual aspect, I wonder if it shares some elements with Elsie, at Ebb Tide: Emerging from the Undertow of Alzheimer's by Barbara Erakko, which I reviewed this past year.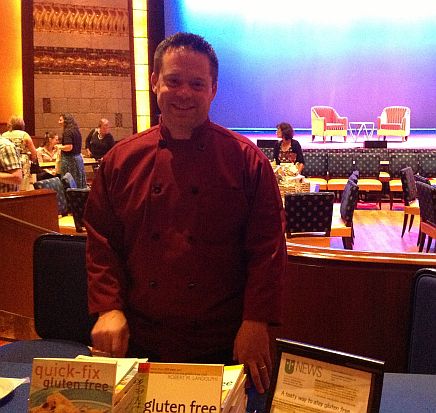 Robert Landolphi is a chef by background. A health crisis in his family inspired the gluten free diet that rescued his wife and ultimately produced the book, THE GLUTEN FREE EVERYDAY COOKBOOK.  The book has lots of favorable reviews on Amazon.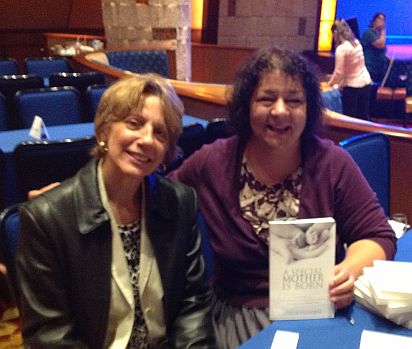 Leticia Velasquez (right), with background as an English Professor, homeschooler, and pro-life activist is someone committed to helping people understand that raising a child with Downs Syndrome or other special need(s) can be a blessing. A SPECIAL MOTHER IS BORN: Parents Share How God Called Them to the Extraordinary Vocation of Parenting a Special Needs Child has numerous favorable reviews on Amazon that give more specific information from people who have faced what may seem an insurmountable challenge and have benefited from the book's stories.
James Littlefield and Joe Hurley gave big smiles when I asked to take their pictures!
James (left) is interested in Civil War history and wrote a book called, THE SLAVE CATCHER'S WOMAN: a tale of love, intrigue, death and awakening in the Antebellum South, an historical fiction "inside view." Told in the first person, the plot centers on a bounty hunter of fugitive slaves who finds the tables turned. His wife, the love of his life, is kidnapped and now he must apply everything he's learned to try to find her. Strong reviews on Amazon. Readers are liking the authentic dialogue, the author's knowledge of this time period, and the view inside the mind/heart of this man who bounty hunts for a living. The book has a striking cover and beautiful sketches at the start of each chapter.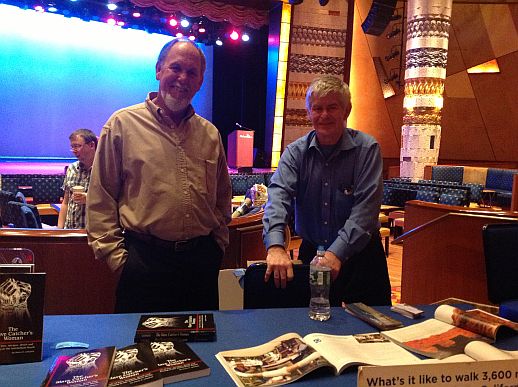 Joe Hurley's book is called, TEN MILLION STEPS ON ROUTE 6: A Fresh Look at America and Americans from Cape Cod to California. Fans who miss the folksy style and reporting of Charles Kuralt may want to take a look at this book, available from the author.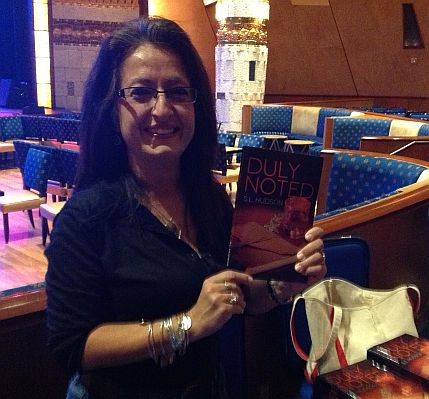 S. L. Hudson's debut novel, DULY NOTED, is about a man trying to get his life back on track. She has some strong reviews on Amazon and a winning smile!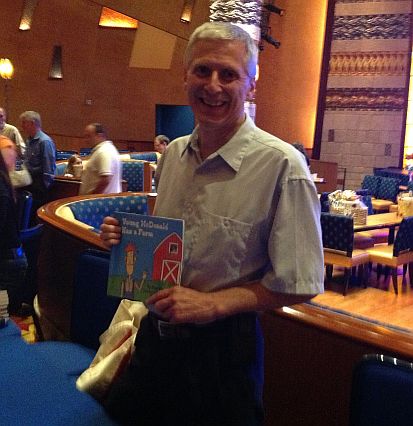 Stan Munslow, an author and musician, has published several books. On the trail, he spoke about his book, GETTING GOOD, GETTING GREAT: What the Best Players Know.  Some practical advice on how to be the best, musician or perhaps other fields as well.
One of the nicest moments of the evening was visiting with Mary, now retired, who worked at St. Joseph's Church in Norwich when I was researching my book.  She was such a big help to me and other family researchers! And, I was thinking, if you consider that the name of my book's main character is Marianna, I guess you could say it was an evening in which I was surrounded by three wonderful Marys and lots of other nice folks as well!
Google the books or the author's names for more information or check out the 2013 Connecticut Authors Trail website at:http://connecticutauthorstrail.org/