Norwich, CT was a good place to grow up! For me, going home for this book appearance gifted numerous nostalgic moments. It also connected me with fascinating new acquaintances who, in some cases, also helped me circle back to my younger years.
Twenty authors participated in the 2nd annual NFA Book Expo in Norwich, CT on October 11, 2014. The event was held at the Slater Museum Atrium, on the Norwich Free Academy (NFA) campus. The three sponsors were the Otis Library, NFA, and the Slater Memorial Museum. The headliner author for the event was novelist Wally Lamb, a Norwich native.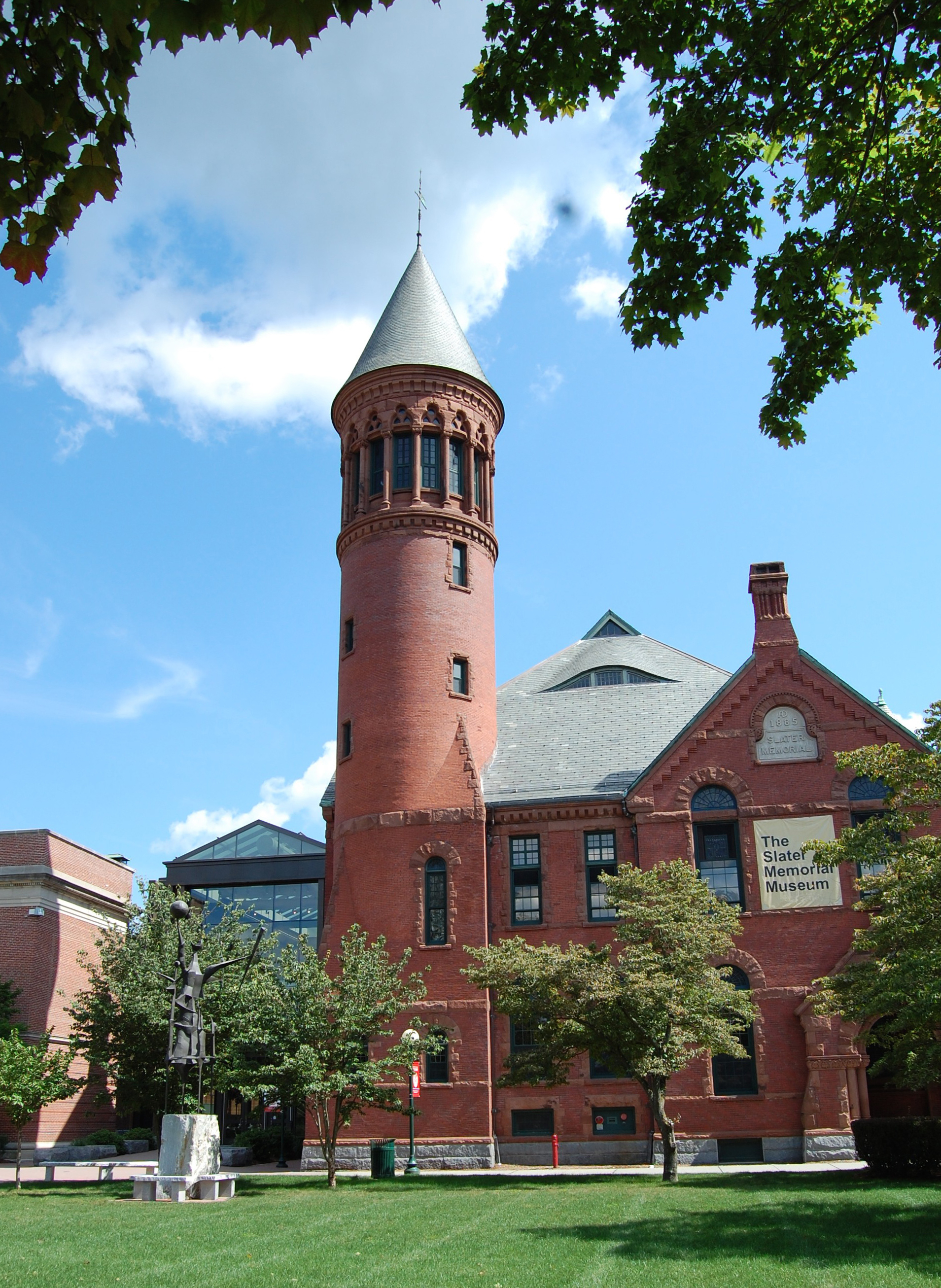 This was the first time I had visited the Atrium, an impressive piece of glass and steel architecture completed in 2011. My thanks to Slater Memorial Museum Director Vivian F. Zoe for providing this photo for my use and to the expo planning committee who prepared an excellent brochure, from which I have borrowed content for this news post.
Can you see the glass Atrium peeking out in the left side of the photo? The Atrium sits atop the courtyard between Slater Memorial Museum (red brick and stone in right foreground), the Converse Art Gallery (behind Slater), and the Alumni and Norton (brick building far left) gyms.
Through much of its history, Norwich Free Academy has occupied a campus the size of a junior college. When I attended in the 1960s, we had six minutes between classes, which trust me, did not allow for much dawdling if you were walking from a building on one side of campus to the other!
The Slater family, well known industrialists in southern New England a century and more ago, will long be associated with the Ponemah Mill and for their philanthropy. Norwich Free Academy is among a handful of U.S. secondary schools with a museum. Slater Memorial Museum is a destination worthy of a day trip!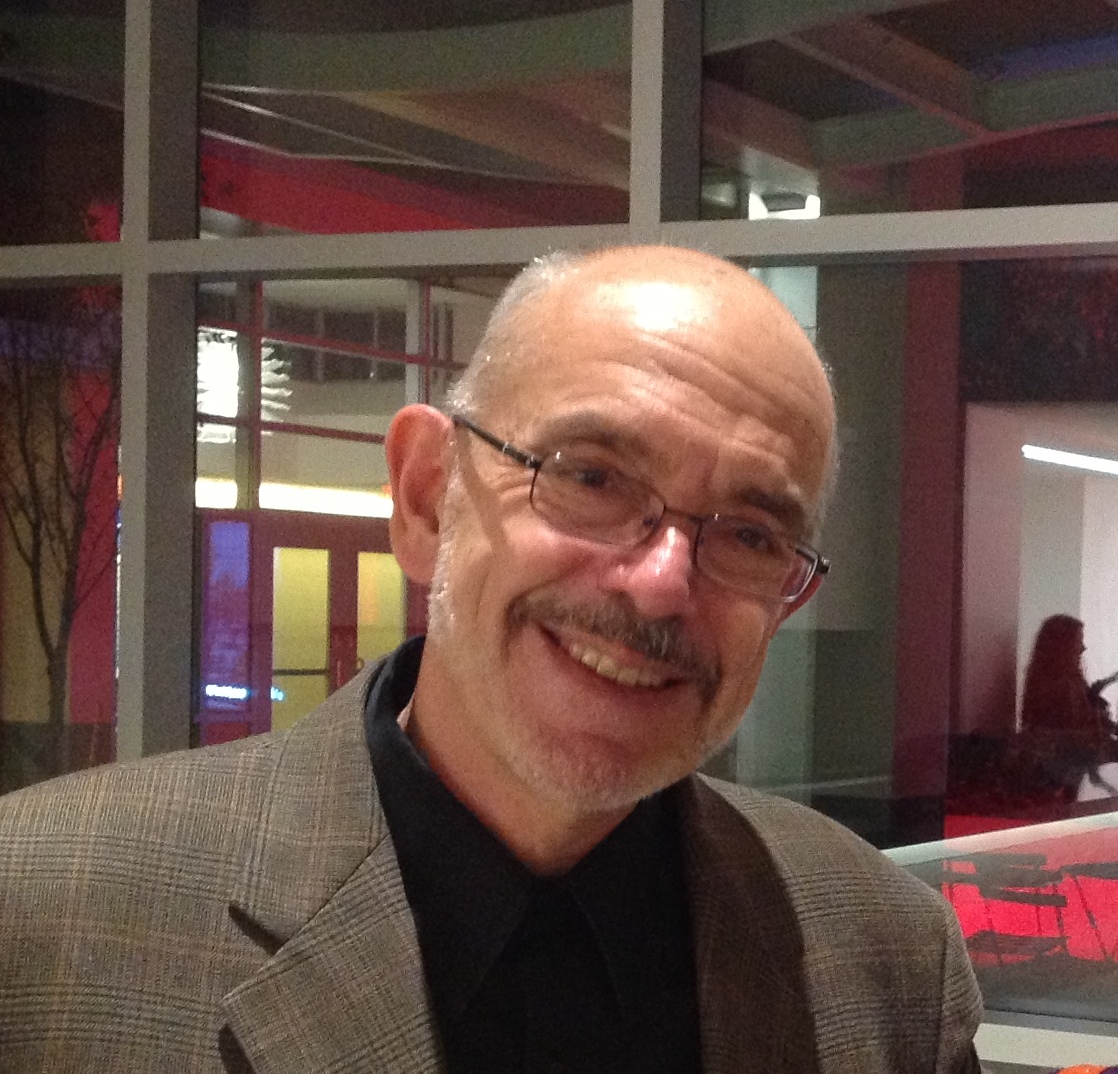 Novelist Wally Lamb was the headliner for this 2014 NFA Book Expo.
Every author present had a meaningful connection to Norwich:  native, grad, resident, or employed past or present by Norwich schools and businesses, etc.
Wally and I graduated in the NFA Class of '68.
Unless otherwise indicated, photo credits go to my hubby, Chris. My thanks to him and apologies in advance to authors for whom we do not have a pic. He didn't want to interrupt conversations going on between authors and readers, and did enjoy the event a little himself — especially yakking with my Aunt Vee, one of the advisors for "Robin." We were so pleased that she could spend a few hours at the Book Expo.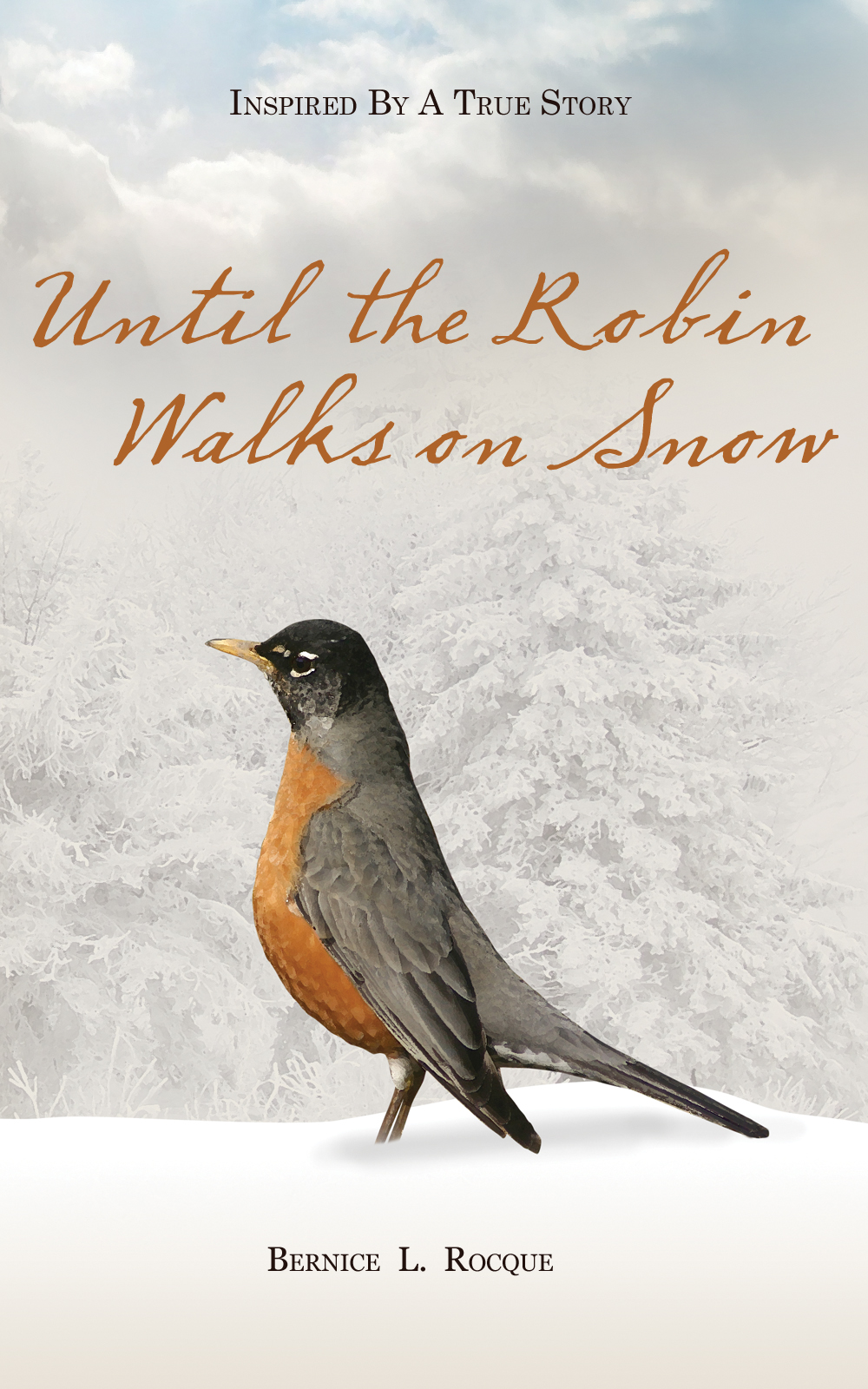 Hands down, the highlight of the event for me, was chatting with readers and with authors. I was there to promote and sign my book, UNTIL the ROBIN WALKS on SNOW.
The story, fictionalized, is about my family's efforts to save my uncle. Born in 1922, he weighed a mere pound-and-a-half.
Here I am signing and chatting with Maria Fells.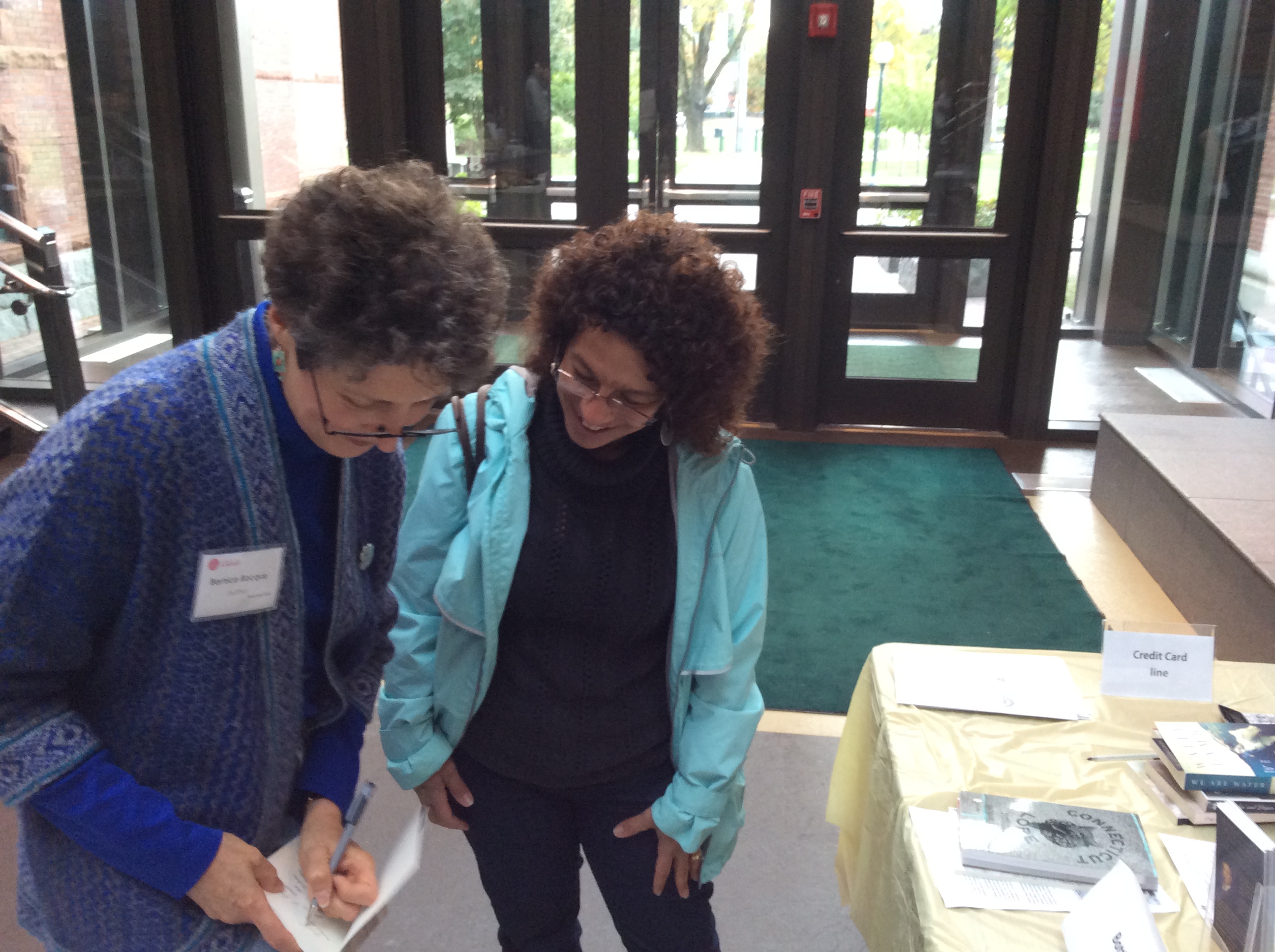 When a student at NFA, Maria participated in the Norwich school system's music program and knew my Aunt Albina, a violinist and beloved figure in music education for many years.
I learned after this event that Maria was a student of Wally Lamb, in the years he taught at NFA, AND she is a cousin of a cousin. Small world!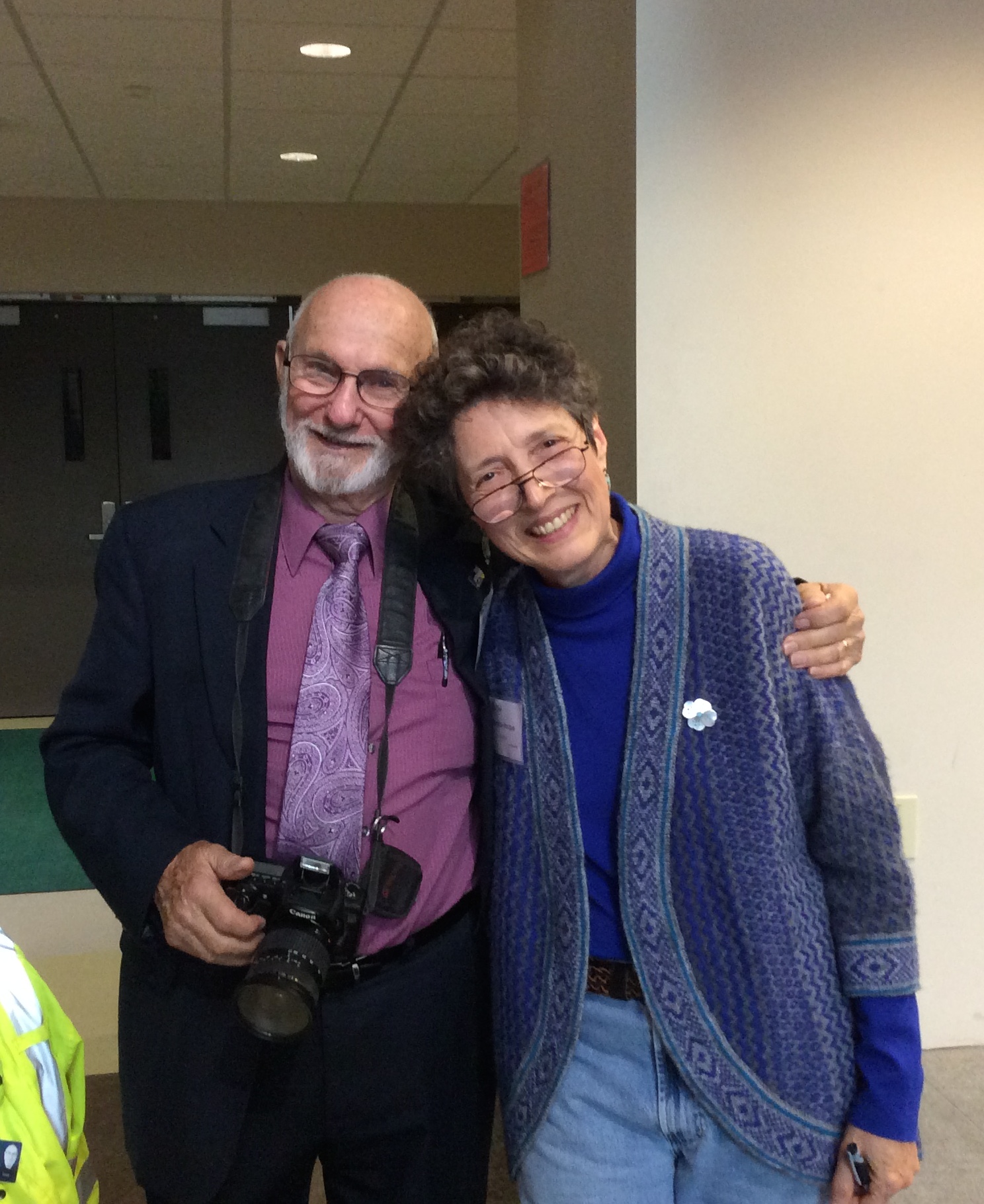 The next highlight of the NFA Book Expo was reconnecting with one of my NFA teachers, Dan Blackstone, now an author of poetry and memoir books. He has published five books since 2012 and has several in progress! Current titles available include two books of poems, a "mystery about an infatuation with a wrecked 1932 Buick," a story of a man drawn to an intriguing old house, and a memoir about growing up in Norwich during the 1930s and 1940s called Life On, In and Along the Thames, which I am placing on my research reading list, as I hope my third book, down the way, will feature my family's life in the years of the Great Depression.
In my freshman year at NFA, I took Earth Science with "Mr. Blackstone." Do I recall accurately that his classroom was at the base of the rear staircase in the Commercial Building? I will always associate him with a highly charged moment of unexpected compassion — by a teacher for a shy student. That story appears further down in this post.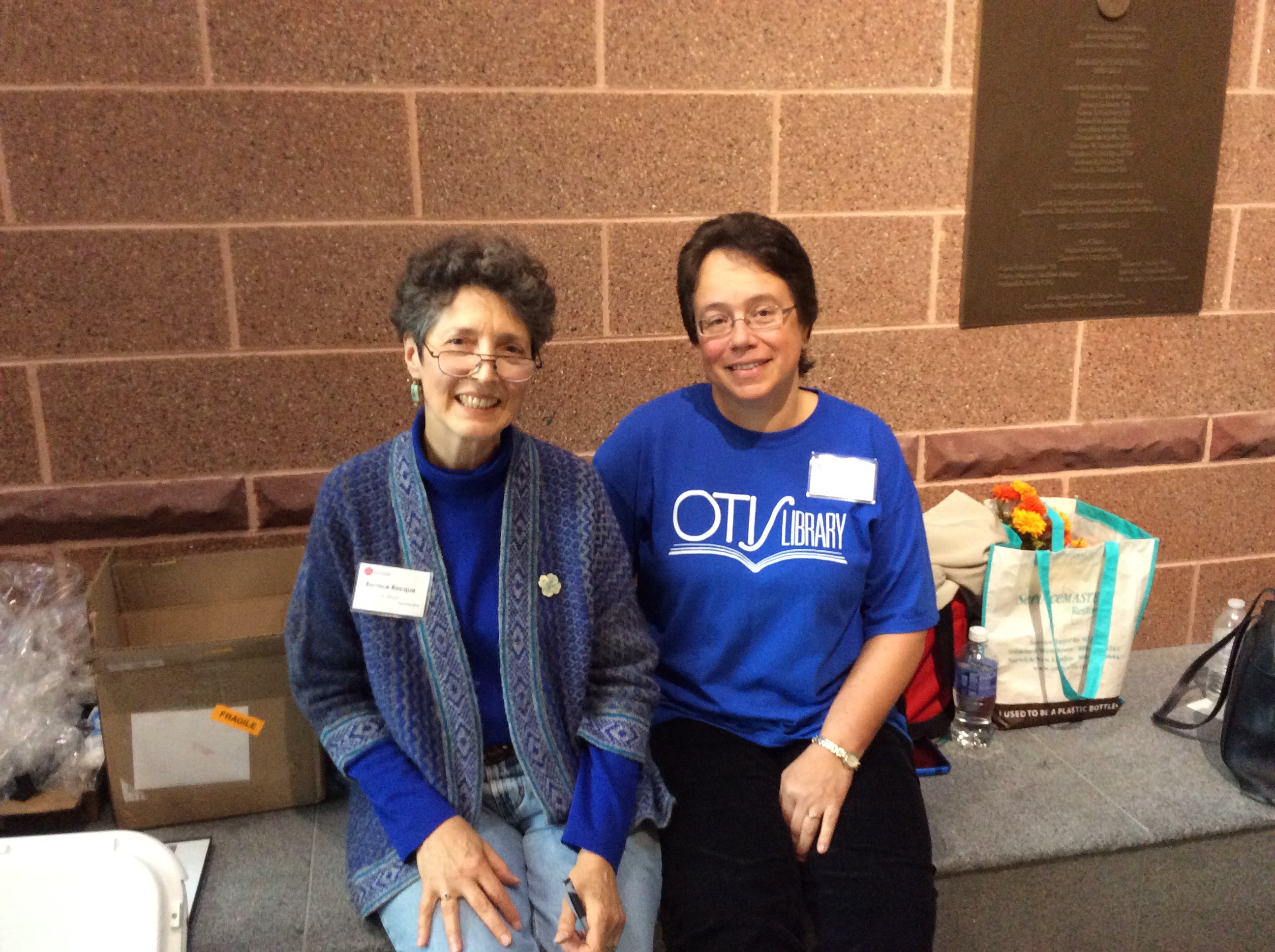 I was delighted to share a table at the Book Expo with Debbie Froio, an officer of the Otis Library Friends.
She represented their wonderful new fundraising cookbook, A Literary Feast, produced by a team Debbie chaired. 500 recipes for $15.00, a great value! It would make a fine gift, holiday or otherwise, for someone who loves cooking and baking.
The Otis Library Friends asked me to promote the cookbook last summer in a WTNH-TV spot. I was honored since twenty authors and nine chefs contributed recipes. If you are interested in viewing the short video by Connecticut Style and/or getting my granola recipe featured, here's the link. For more on the adventure this experience was for me, click here.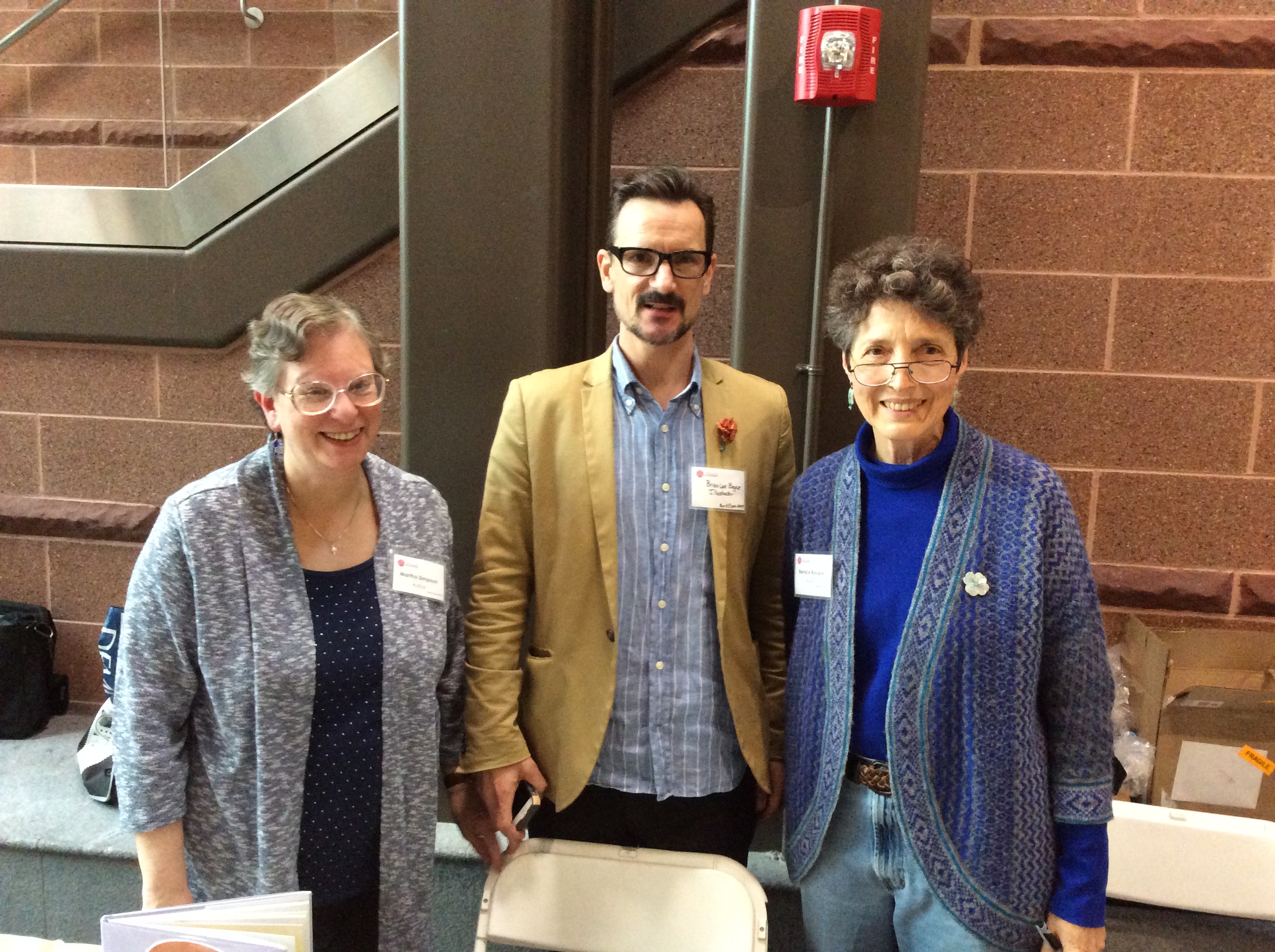 Assigned to the table on the other side of me were Martha Seif Simpson and Brian Lee Boyce.
I wanted to learn about Martha, her role as the Head of Children's Services at the Stratford (CT) Library Association and her books. As some of you know, once upon a lifetime I was the first YA Librarian at the Simsbury Public Library, located west of Hartford, CT. Martha has authored five resource books for librarians and teachers, as well as two picture books, What Not to Give Your Mom on Mother's Day and The Dreidel that Wouldn't Spin: A Toyshop Tale of Hanukkah. She's a frequent presenter at library conferences and a die-hard fan of UCONN Women's basketball. She works a stone's throw from where I reside, so I hope we can stay in touch.
Brian was signing My Cleocatra, a book he illustrated, written by Mary-Anne Hall. One of the things we talked about was the cottage industry forming to support authors who elect to publish their own books. The opportunities for illustrators, web site and graphic designers, manuscript formatting pros, editors, and marketing folks are a plus for folks with those skills and interest in being immersed in the exciting chaos and change in the publishing industry.
I spoke briefly with Greer Gilman and Faye Ringel immediately after we arrived to set-up.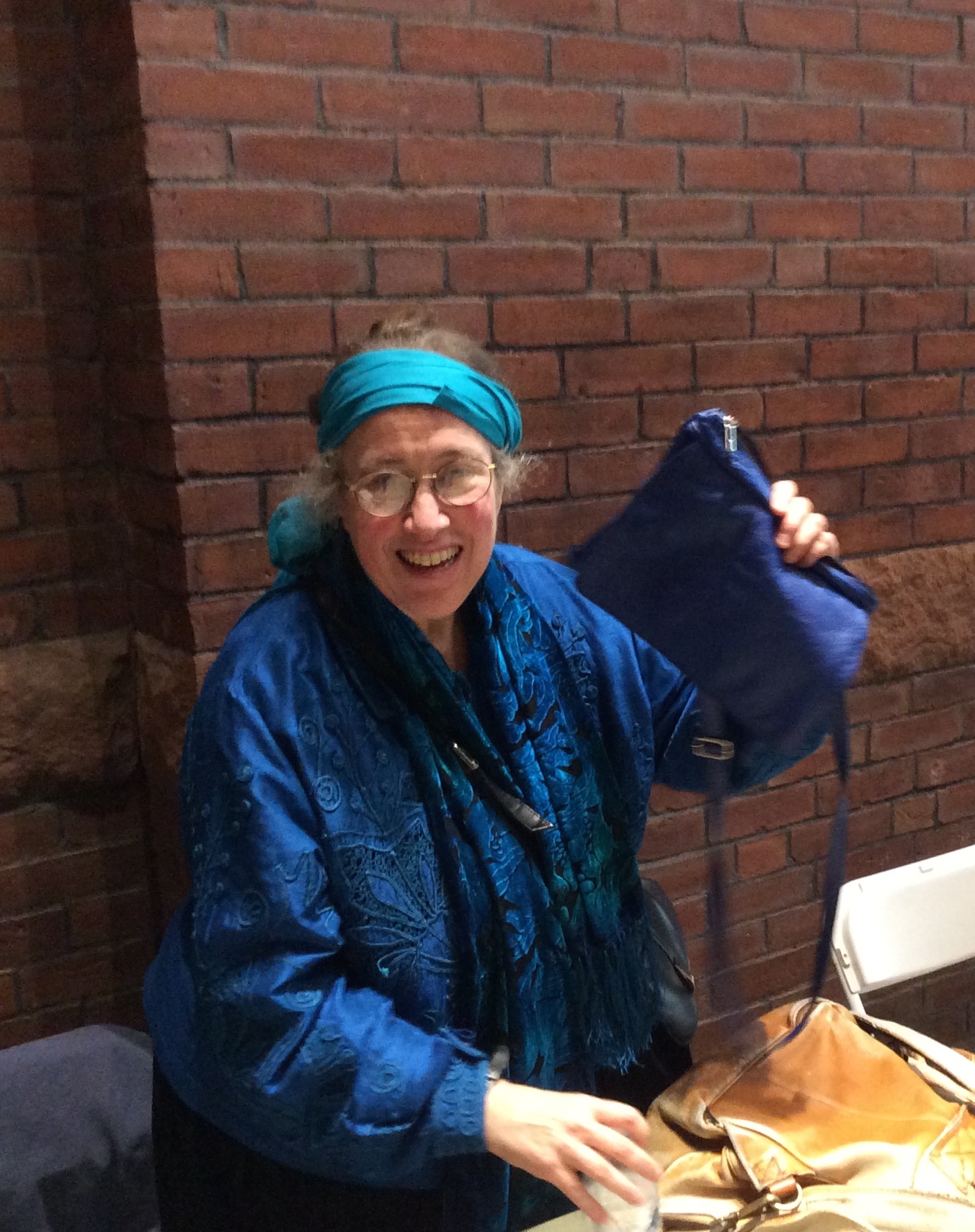 Greer and Faye were in the NFA Class of '69.
Greer's "love of British lore an landscape, of its rituals and ballads, is a constant in her work… Her books are written for the ear, as much as for understanding."
Greer has been writing stories for "a quarter century" about Cloud, her Northern mythscape, and has a work connection to Harvard University.
Greer Gilman's books are:  Cry Murder! in a Small Voice, Exit, Pursued By a Bear, and Cloud & Ashes: Three Winter's Tales.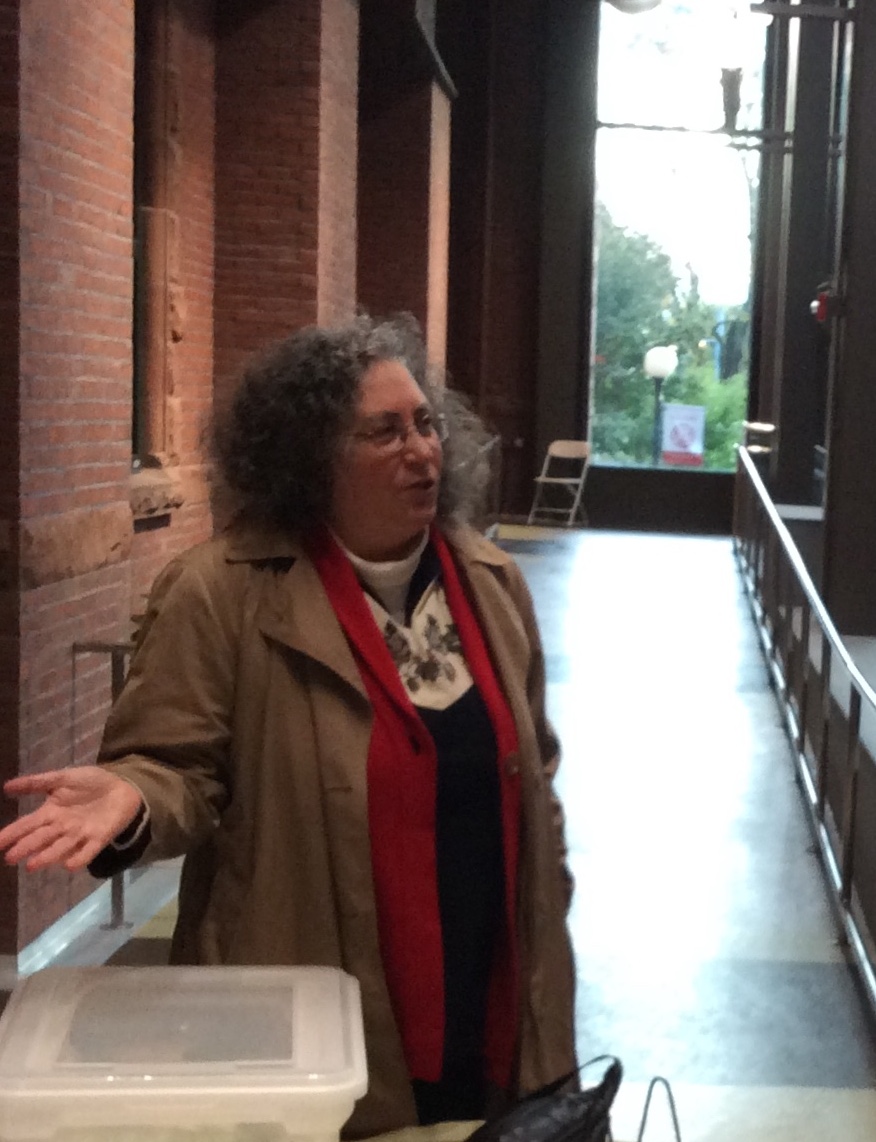 Faye is a Professor Emerita of Humanities, U.S. Coast Guard Academy.
Her scholarly book, New England's Gothic Literature: History and Folklore of the Supernatural, is a "comprehensive and comparative approach to the folklore, fantasy, and horror literature of New England from the earliest European exploration to Stephen King…and Shirley Jackson."
Faye and I share warm memories of playing in the NFA orchestra, directed by Mr. Tellier in those days. A delightful conversationalist, she is still active in music endeavors in the area.
James Rourke has been a teacher at NFA for eighteen years.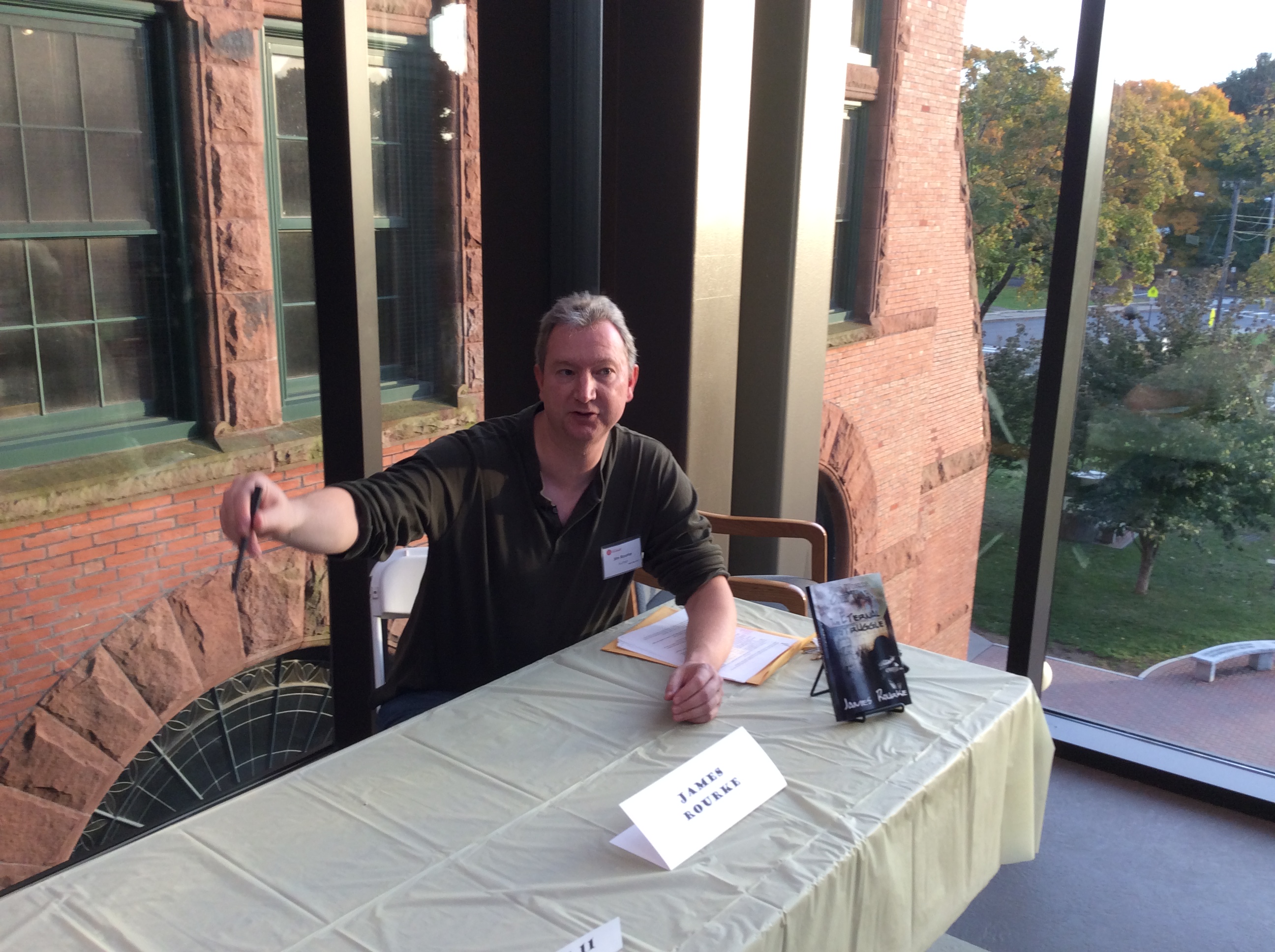 The walls of Slater Hall behind him are apropos! History, philosophy, psychology, and world religions are his domain.
Jim's novel, The Eternal Struggle: Two Worlds, One War portrays the final battle between good and evil.
The forces enlist characters from history to engage in an epic Earth and afterlife struggle.
As I was writing this, I wondered if Jim was familiar with a 2013 novel, The Ghost Bride, the debut novel of Yangzse Choo. For fans of Jim's book, her novel is also a journey into the afterworld. It melds five afterlife cultural beliefs from Asia and is a five genre book (historical fiction, mystery, fantasy, paranormal, romance). Yangzse was a recipe contributor to the Otis Library cookbook mentioned above, providing an alternate way to perfectly poach an egg.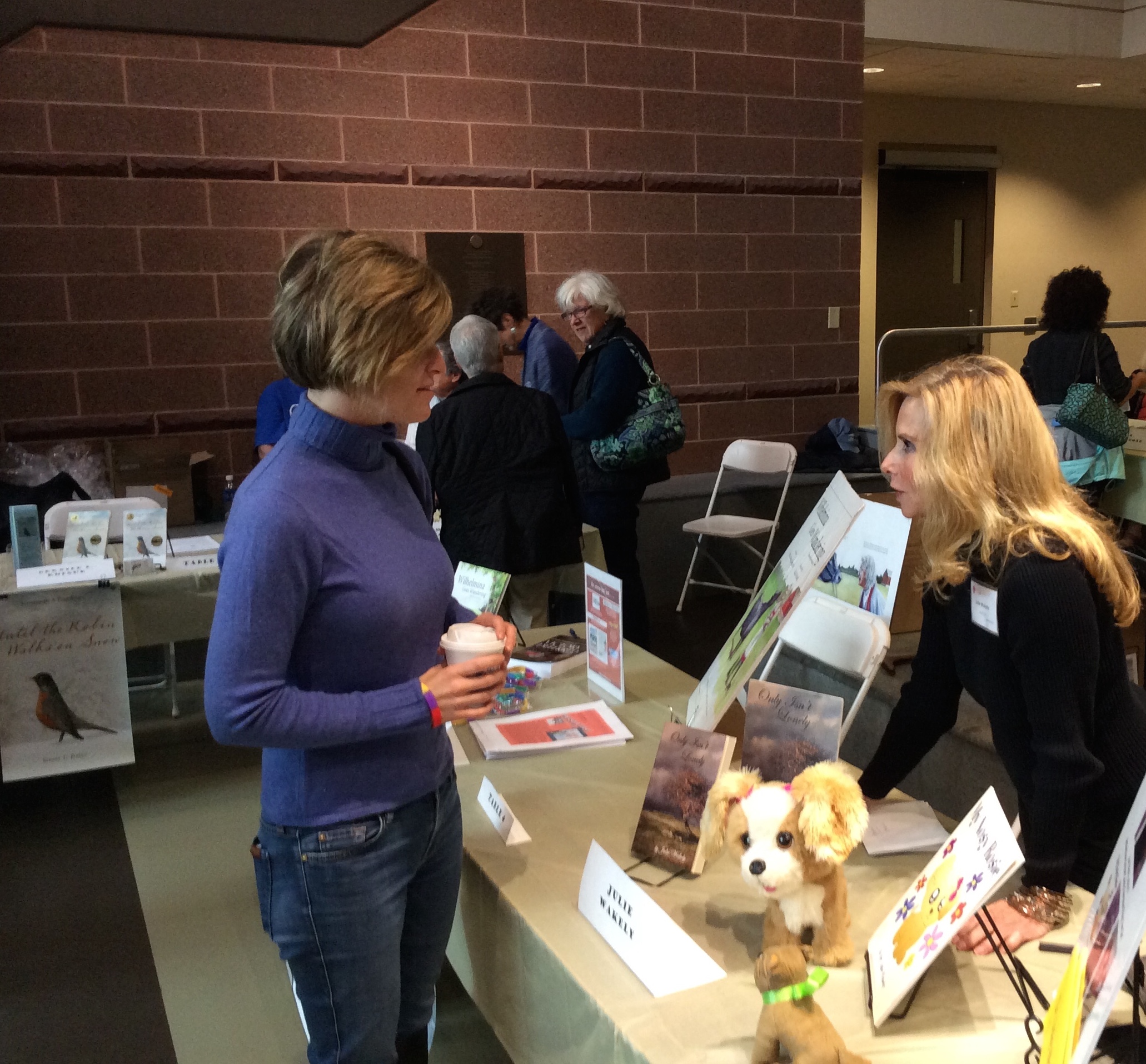 Julie Wakely is a former Spanish teacher at NFA. She has diverse background, including SAG/Aftra membership and a professional background in television and film.
Her adult fiction book, Only Isn't Lonely, is a story of "survival, family values, and generational connections."
Her children's book, My Nosie Rosie uses rhythm and rhyme to help young readers discover "the magic of self."
Stephanie "Morning Fire" Fielding and Stephen Fan shared a table diagonal from mine. They had quite a lot of interest from readers, as you can see. Notice again the brick and red stone exterior of Slater Museum behind them which serves as one of the walls of this atrium addition. Beautiful, isn't it?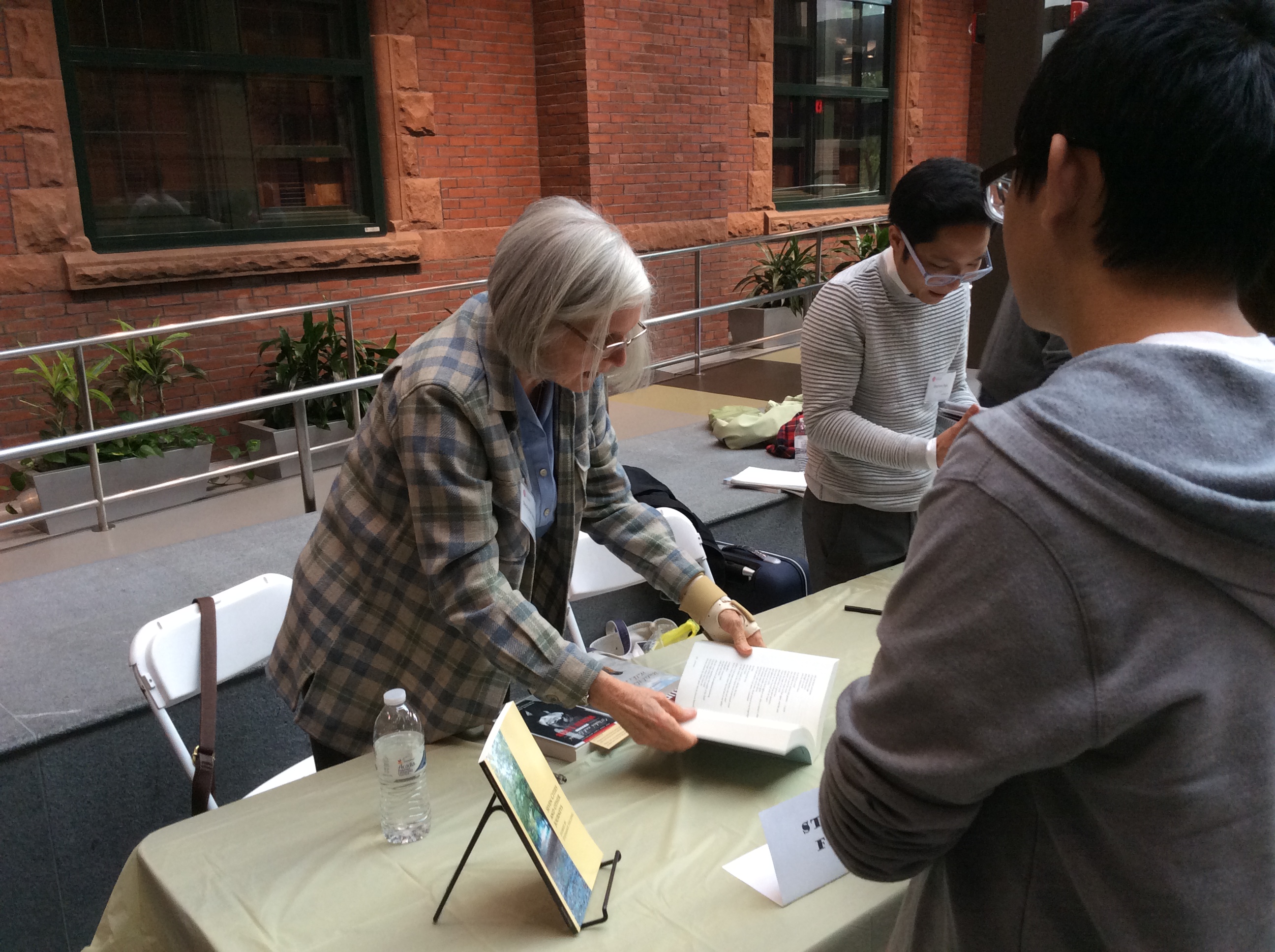 Stephen Fan is a grad of NFA and Harvard. His work rests in the intersection of "architecture, planning, design, and craft. He has built projects on four continents…"
"After various stints as a travel writer and an apprentice to a German master violin maker, Stephen is now adjunct assistant professor at Connecticut College."
Stephen Fan's book, Suburbanisms: Casino Urbanization, Chinatowns, and the Contested American Landscape brings together the thoughts of "architects, anthropologists, historians, designers, and policy makers" in exploring how casinos have "changed the American landscape."
Of the twenty authors appearing, Stephanie Fielding was among those I most wanted to meet and talk with at this book expo because I have Native American heritage via my mother's French-Canadian family. Stephanie is best known for her work in linguistics and "resurrecting the Mohegan language." A member of the Mohegan Tribal Council of Elders, she holds an MS from MIT. "Her masters thesis, The Phonology of Mohegan-Pequot, includes diary excerpts written in Mohegan from her relative Fidelia Fielding, the last fluent speaker of the Mohegan language."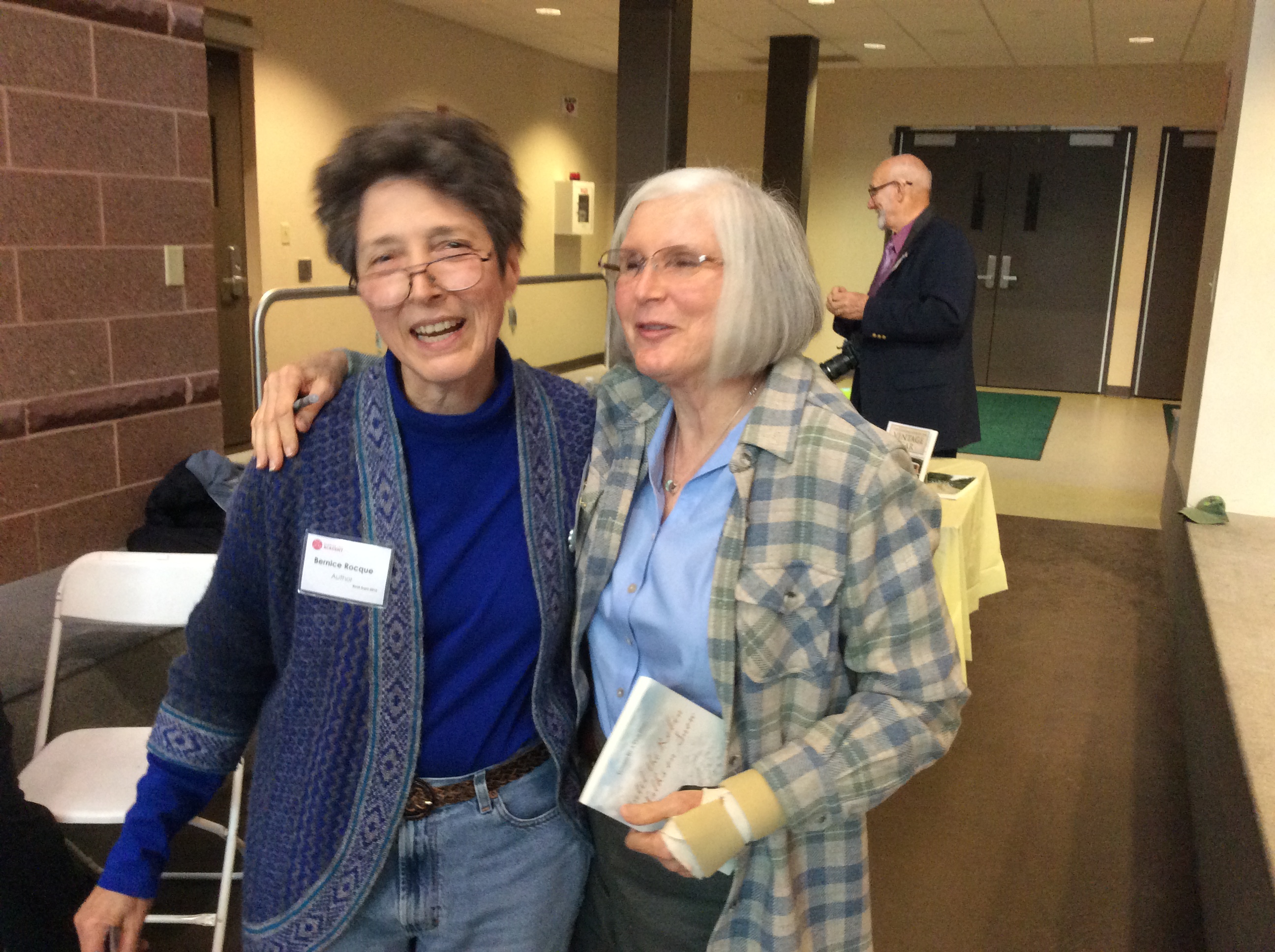 What a fun, effusive conversation we had, as you can tell in this photo. We bought and signed each other's books.
After the holidays, when my list of to-do's calms down a little, I so look forward to reading her book, Seven Cities and Other Journeys, a group of stories that "hover on a dreamlike border between fiction and memoir."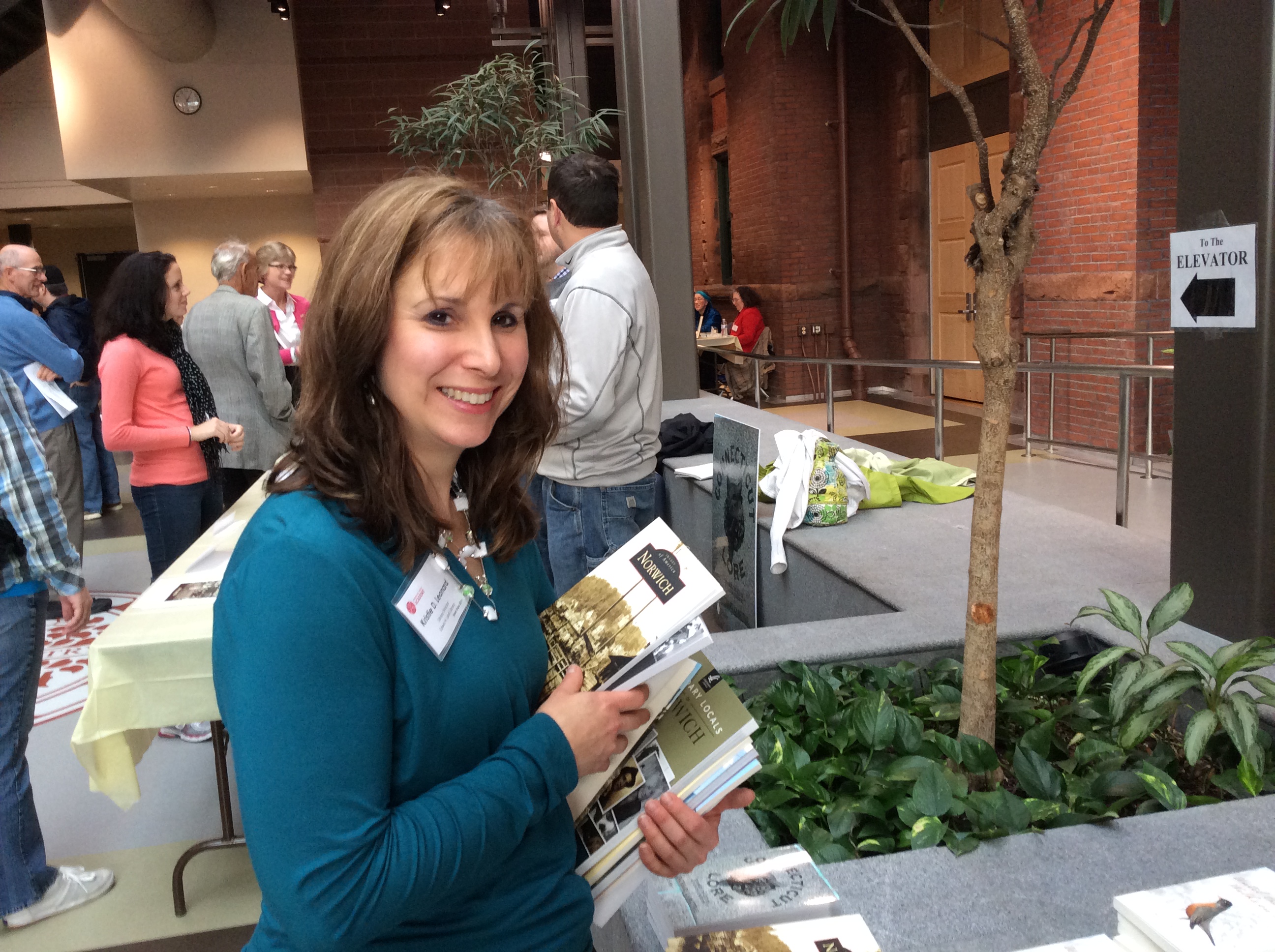 The triad organizers of this event were Jennifer Rummel, the YA Librarian at Otis Library in Norwich, Leigh Thomas, Assistant Director of the Slater Memorial Museum, and Kristie Leonard, the Director of the NFA Library, shown here. Having planned events often during my career, I know how much work goes into them. Thank you to these organizers and their colleagues!
Here are other authors who appeared at this NFA Book Expo.
John-Manuel Andriote, a Washington, D.C. journalist, and former columnist for the Norwich Bulletin talked with prospective and current readers about: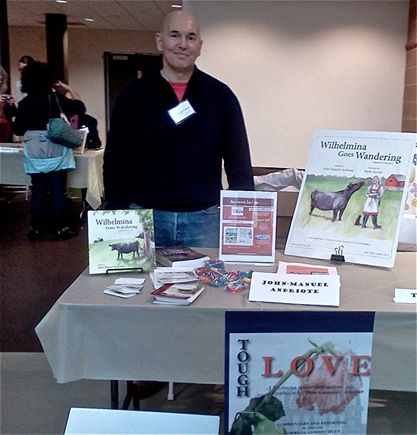 his new 2014 children's book,
WILHELMINA GOES WANDERING
(www.runawaycowbook.com),
just out in a new French translation,
WILHELMINA VA ERRANTE
(www.lavachefugitive),
based on the true story of
a runaway cow in Milford, Connecticut;
VICTORY DEFERRED
(www.victorydeferred.com), his award-winning history of the AIDS epidemic in the United States;
and a forthcoming collection of commentary and reporting about Norwich, Connecticut called TOUGH LOVE: A Washington reporter finds resilience, ruin and zombies in his 'Other Connecticut' hometown.
Michael G. Borders, a Connecticut artist, may be best known for his impressive eight-paneled Connecticut Industry Mural, one mural for each of the state's counties.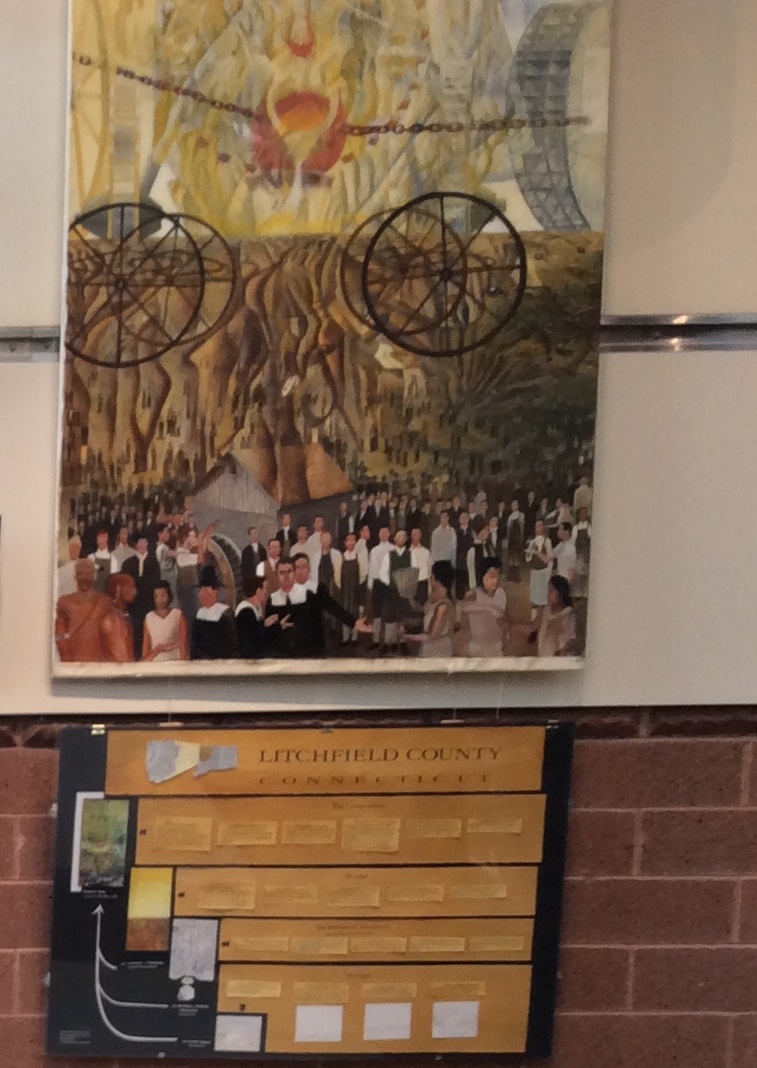 I realized after the event that one event photo did catch a large portion of his mural of Litchfield County, shown here.
Michael's artistic integration of people, machines, and industry have been described as a "powerhouse of visual imagery… with subtle nuances and feeling."
I understand the Ponemah Mill is a distinctive image in the New London County mural.
Michael's book about the Connecticut Industry Mural is available in the Slater Museum Gift Shop.
If you would like to know more about Michael Borders and his art, including the murals, click on this link.
Beryl Fishbone is a Norwich resident, local historian, community activist, and storyteller. She happily shares history and stories twice a week in "Norwich Nuggets," a Community and History Blog in the Norwich Bulletin."  She has published Legendary Locals of Norwich, and is currently assembling names and stories about past and present women of Norwich. If you have ideas for her, try berylfishbone at yahoo dot com.
Esther Friesner is a "prolific American science fiction and fantasy author." She is prominent in her genres. Honored many times in nominations for Hugo and Nebula Awards, her stories have won the Nebula Award for Short Stories twice, in 1995 and 1996. She is an editor of numerous anthologies and has published five novels: Nobody's Princess, Nobody's Prize, Spirit's Princess, Spirit's Princess, Spirit's Chosen, Deception's Princess.
Brian Girasoli, once a sportswriter for the Norwich Bulletin, now teaches English at Lyman Memorial High School in Lebanon, CT. His book, The Norwich Free Academy v. New London Football Rivalry chronicles the history of THE oldest high school football rivalry in the nation (1875) between the NFA Wildcats and the NL Whalers.
Zachary Lamothe's book, Connecticut Lore: Strange, Off-Kilter, & Full of Surprises reflects his long interest in folklore.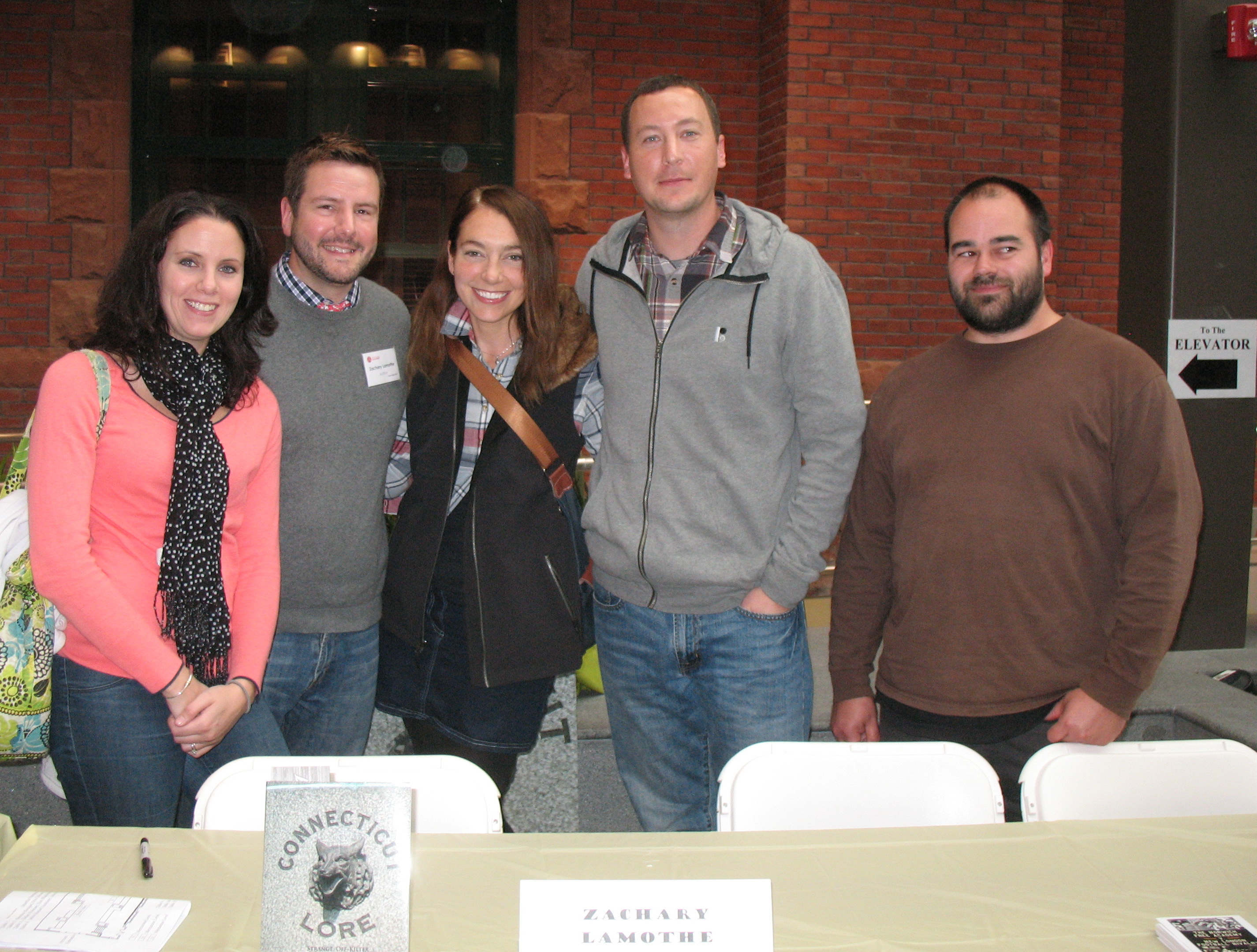 Second from the left in the photo, Zachary "hails from Norwich."
He is an educator with background in special education and history.
While walking through the Book Expo crowd, I ran into a face from my childhood. I recognized Linda instantly, and I soon learned that Zachary is her son!
Though Linda's family knew mine over many years, I only discovered recently that her grandmother and my grandmother, Marianna, were close friends. I was planning to track Linda down in the next few months to interview her for my next book — and there she was — right there! Life is amazing sometimes…
Dale Plummer has served as the City Historian of Norwich, CT since 1989. Involved over the years with just about any activity concerning the area's history, he has become a focal point for anyone interested in, or researching local history. I expect to be contacting him this winter when I dive into the heavy research for my second book. I definitely intend to take a look at his book, Norwich (Images of America) which contains vintage postcards from the 19th and 20th centuries.
Tricia Staley is the author of Norwich in the Gilded Age: The Rose City's Millionaire's Triangle.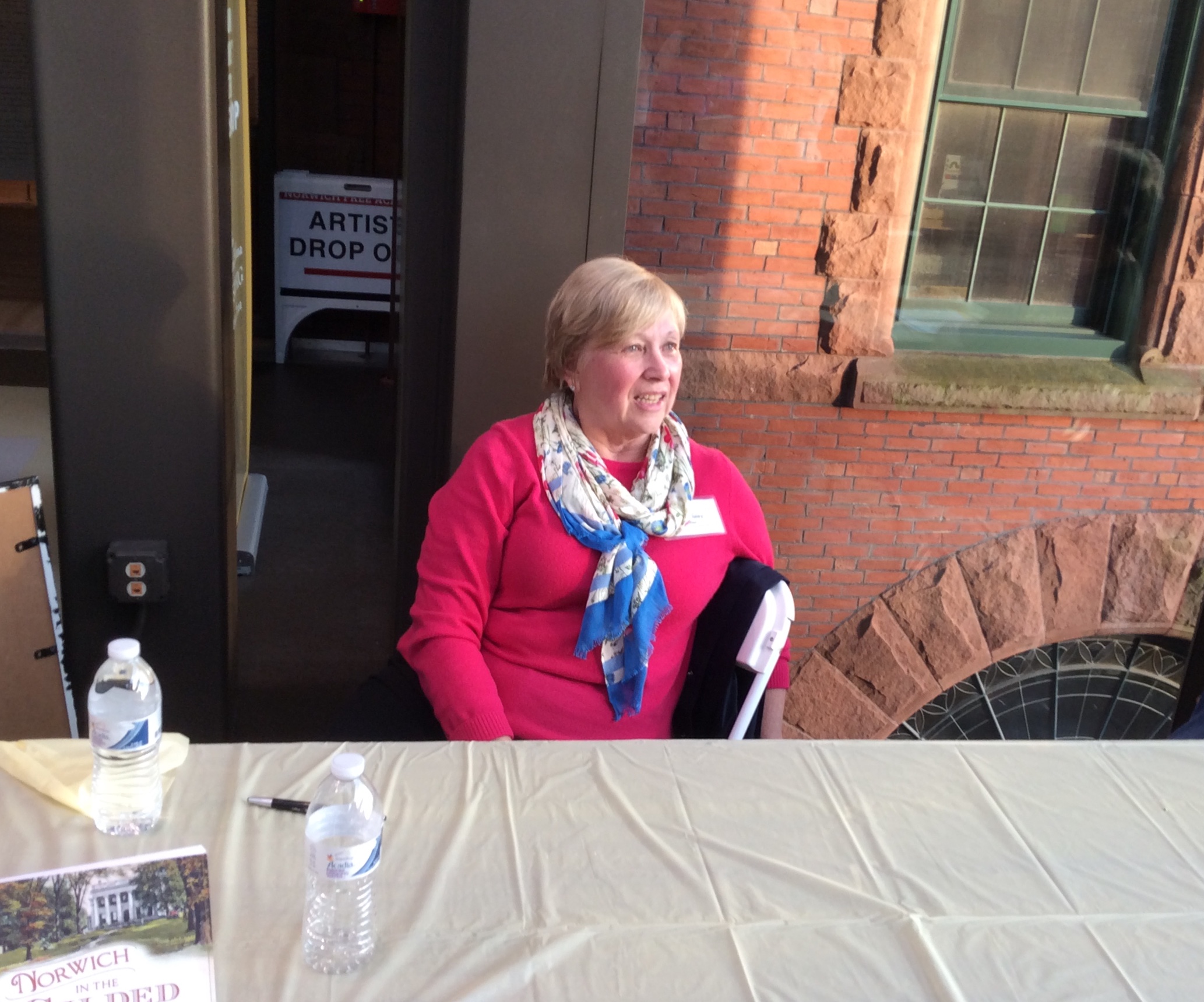 During the Gilded Age, Norwich was home to a bevy of America's wealthiest individuals.
Tricia, a retired history teacher and member of many historically focused associations, researched and recovered numerous forgotten stories, scandals, and "characters" from a time when wealthy manufacturers and merchants built businesses and mansions in Norwich.
Novelist Wally Lamb, a Norwich native, served as the headliner for this 2nd annual NFA Book Expo.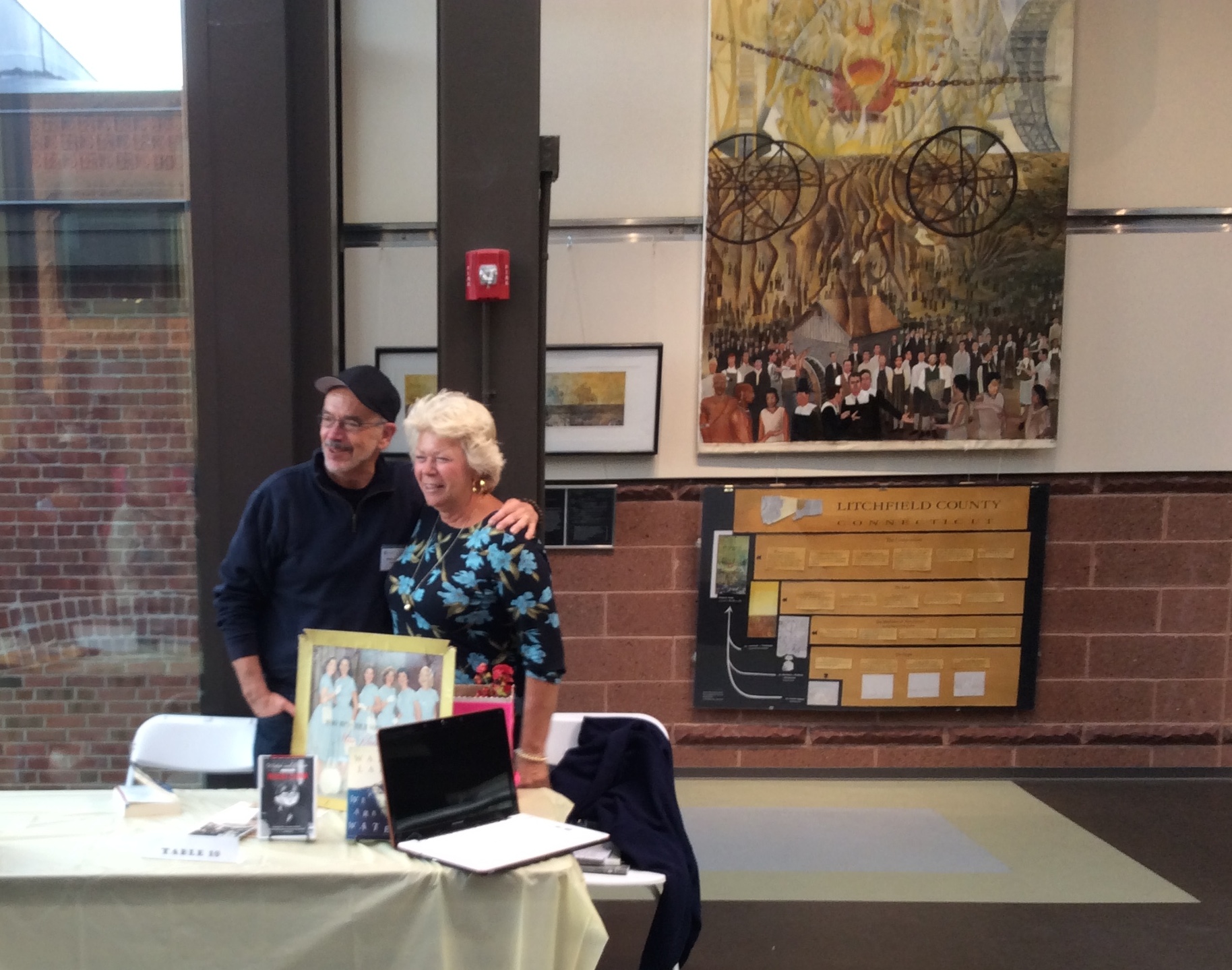 Here's Wally Lamb with Janis Suplicki Sawacki, a recently retired educator and Principal in the Norwich School System. She and Wally were classmates all the way from elementary school. Wally, Janis, and I all graduated in the NFA Class of '68.
Wally Lamb has published five novels, as well as the creative writing of women incarcerated at the Niantic prison. At the center of his most recent novel, WE ARE WATER is a real event, a tragic flood that occurred in Norwich, CT in 1963, in the dark of a March night. I remember vividly the next morning when my mother (having heard a report on the radio) told us about the lives lost when a wall of water and large chunks of ice barreled downward through the city from the dam that had burst at Mohegan Park. I read the book recently and highly recommend it. The fictional story covers a gamut of contemporary issues, and sections of it can be a painful read, but it does a superb job of showing the process of people becoming — how all that happens or fails to happen, circles back in impact.
In the couple hours just prior to the Book Expo, Wally Lamb fans got a treat. He led a WALKTOBER tour of Norwich locations significant to his life and writing. Here is a link with some photos.
What is WALKTOBER? Well, every October, the Last Green Valley and other sponsors offer fabulous short walks in eastern Connecticut, led by experts, and covering a range of historical, cultural, and locational subjects. Here's a link to the 2014 program of walks for those less familiar with WALKTOBER. One of these years, I'd like to reserve 3-4 days in an Eastern Connecticut bed & breakfast and take in a bunch of these walks!
My enthusiasm is even more elevated at the moment because I went on the encore WALKTOBER Ponemah Mill tour at the end of October, led by the Taftville Fire Chief Tim Jencks. Click here to read that blog piece called, "Walking in the Footsteps of My Mother… Inside Taftville's Ponemah Mill."
This past summer, Norwich percolated with excitement during the local filming of Wally Lamb's nostalgic novel, WISHIN' and HOPIN'. Wally partnered with a former NFA student, now with Synthetic Cinema, a Connecticut production company based in Rocky Hill. The premiere of the film will occur at the Garde Theater, a New London, CT landmark, on November 23, 2014 and will air on the Lifetime TV network on December 6, 2014. Click here for a nice article about the film production.
During the Book Expo, there was an author interview segment held in Slater auditorium. The discussions were energetic, especially about experiences with rejection letters. Appreciating the humorous side of these experiences can be salvation from giving up prematurely! Here are a few examples which drew lots of laughter from the Expo audience and nods from authors present.
The audience roared when Author Jim Rourke shared the "punchline" about receiving a particular form letter rejection. The rejection letter still contained its bracketed sections; they had not even inserted his name!
Wally Lamb relayed a humorous tale from early in his writing career. He submitted a short story to a well respected literary magazine and received a rejection. A year later, having forgotten he had submitted the story to this particular literary journal, he submitted it to them again. This time they accepted it! Then, this previously rejected fictional story went on to win numerous literary awards! Acceptances often depend on the subjective view of the individual who happens reads your piece at a particular point in time…
Sitting in Slater Hall, I found myself looking around at the stage, seats, and walls of this vintage and intimate-feeling auditorium. Generations of musicians in NFA orchestras, bands, and choirs have performed on this stage, as well as dancers and thespians.
For me, images of the Christmas tableau came to mind in which the orchestra and choir were positioned in the rear alcoves of the Slater auditorium to accompany the still scenes on the stage. Every audience seat was filled. And though I just loved playing in the orchestra for this annual event, my mind was showing me an image of the choir directed by Bennett Edwards — and replaying their magical rendition of the Carol of the Bells!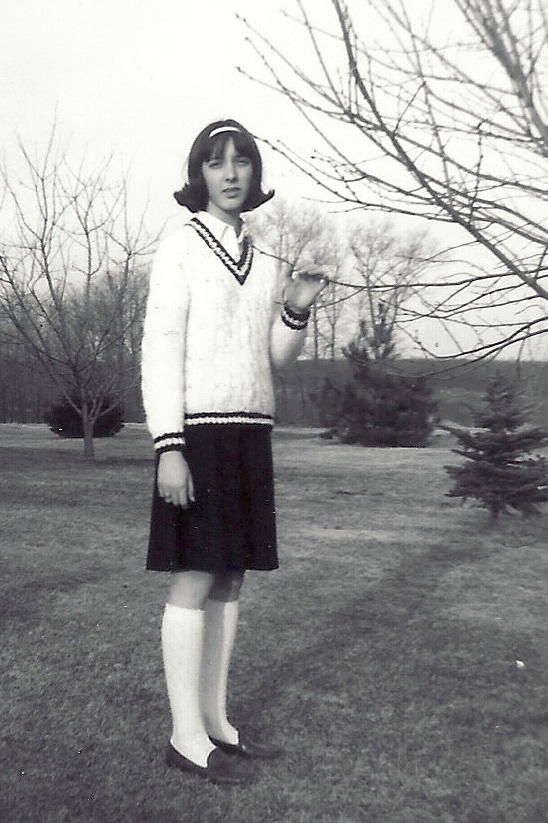 Well, remember that story I alluded to earlier?
I was amazed how crystal clear this personal story remained even though it occurred fifty (oh my gosh!) years ago. The story was not about this auditorium, but about being fourteen, a freshman at NFA, and feeling worried about being revealed as a wimp!
Here is a photo of me from about that time. How I loved that soft sweater! I still love knee sox…
So how did I end up telling this story to everyone at the Expo?
While waiting for the author interviews to begin, I was sitting next to my NFA teacher, Dan Blackstone, and had started to tell him the story memory from his Earth Science class, but halfway through we got word from the stage that the live author interviews would begin. When my turn arrived to introduce myself, I stood up and almost immediately heard this whisper from Dan. "Why don't you tell the story?" he encouraged.
My first thought was that he had such high trust. He had not yet heard the entire story! Anyway, the once shy person inside me hesitated, knowing there might be time constraints, so I asked the faces on the stage and in the audience, "Should I tell this story from when I was a freshman here at NFA?" The nods seemed more than ample, so I proceeded. When you are in the moment, it is sometimes difficult later to separate exactly what you said, so this recollection below (of a recollection) may contain more or less info than I told the day of the Book Expo.
"When I was a freshman," I began, "I recall going over to Norton gym to get my tetanus booster shot. Feeling very apprehensive, I stood in line fretting. These were still the days when needles were reused, and I tended to get quesy if I saw blood dripping down my arm or anyone else's. The needle used on me that day mustn't have been too dull — no blood, thankfully, but I still felt a little faint. I walked a short distance and sat down on the bleachers which were extended for the needle marathon. The next thing I remember is that people were standing around me with smelling salts. (I learned later that I collapsed backward against the rising bleachers.) They helped me walk to the nurse's office located right there at the gym. After lying down for a while, the nurse determined I could go to my next class which was scheduled to begin soon. As she guided me out of her office, who should I see staring at me? The teacher of this next class, Earth Science! In those days, Mr. Blackstone enjoyed sort of a fierce reputation. I say "enjoyed" because it seemed he rather liked this perception. And in thinking back, I do not recall any misbehavior in our class the entire school year. Not long after I took my seat in his classroom that day, I watched as he strode into the room. In fleeting moments his eyes fixed on me, or so it seemed. Standing at the corner of the classroom he began to speak with what seemed a mischevious expression. It would be accurate to say I was terrified that he was going to single me out for the wimp I was. He said, 'You know, I just came from the nurse's office and I saw a student coming out of the office.' He paused and I felt frozen in place, waiting for the rest of his words. 'She was as white as a sheet. I can't imagine how she looked when she went in.' Then, Mr. Blackstone headed for the blackboard and started class. What I remember most is my feeling of gratitude for his gift of compassion to this shy freshman girl."
Have you ever experienced a moment like that one — when you got an unexpected reprieve? Those present seemed to enjoy this story from another lifetime, especially those who attended NFA in those years. And with this story I will close this nostalgic news item. I hope you enjoyed it!