WELCOME!
I write about my family and its history, via fiction and nonfiction.
Why? Well, the short answer is that a sudden realization drew me into this writing journey. MORE…
The Ponemah Years:
Walking in the Footsteps of my Mother
Readers have said:
"nostalgic"
"unusual memoir"
"a tender telling"
"humorous and poignant"
"filled with photos
"well researched"
"writes with such beauty"
Gabrielle Picard remembered the "long train ride" from Quebec to Connecticut in 1924. She was four years old when her parents and their twelve children emigrated to Taftville, the location of the famous Ponemah Mill—known for its steady work, fair wages, and good housing. The Ponemah years would be etched by loss, but also brim with hope, hard work, and heroes.
This is Gabrielle's story of becoming a weaver in the 1940s, and her daughter's journey to know her better. In a narrative of interwoven biography, history, memoir, and family portrait, the story unfolds with 184 images from more than 10 decades. MORE about this book…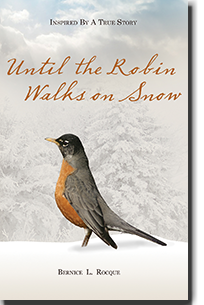 Until the Robin Walks on Snow
Inspired by a true story
Readers have said:
"remarkable story"
"truly inspiring"
"gives a human face to the immigrant experience"
"gripping"
"vivid"
"authentic"
"a time when most tiny babies were lost"
It is 1922. In a farmhouse in Norwichtown, Connecticut, a tiny baby is born. He weighs 1-1/2 pounds…. An immigrant family and their midwife are determined to save this newborn, despite overwhelming odds. This story about survival, faith, family, and friendship, takes place during the holiday season and includes Lithuanian and Polish Christmas Eve traditions. Author's Notes follow the story and offer further information about the facts, family history, and research behind the story.